---
---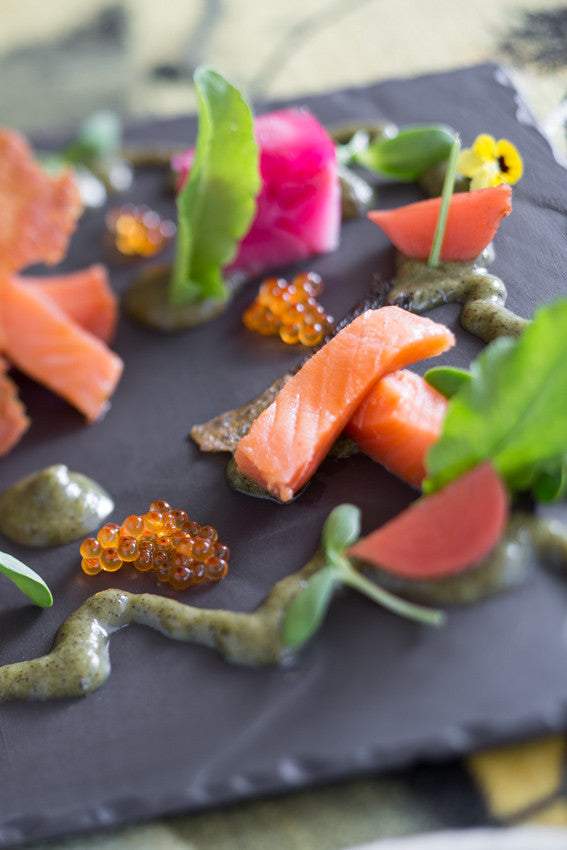 Late summer in the Cape Winelands offers a bounty of fruit and therefore the traditional cuisine of the area uses fruit in all kinds of ways – in desserts, pastries, confectionery, salads…
Pierneef à La Motte restaurant's late summer menu celebrates the season with a light and playful festival of summer fruit in delicious dessert combinations, enhanced by flavours such as rose leaves and herbs – another inspiration from ancient times that found its way to the cuisine of the Cape Winelands.
Expect a decadent Dark chocolate and pistachio semifreddo with figs, Muscat and rose infused gelée, a Banana tarte tatin with burnt citrus purée and coconut sorbet, Peppermint meringues with raspberry sorbet and Valrhona hazelnut Ivoire clusters and a Chocolate and praline pancake stack with blackberry parfait and coffee granita.
Dark Chocolate and pistachio semifreddo with blackberry parfait and coffee granita
For starters and mains, the biological garden on the farm provides seasonal and fresh vegetables and herbs used in the signature dishes such as the popular Bokkom salad, Citrus-cured Franschhoek salmon trout with grilled cucumber, horseradish terrine and apple puffs and the Salted lamb's rib with creamed corn and summer peas. A host of new Cape Winelands Cuisine inspirations such as a Chilled Soup of the Day, Fennel from root to tip and Confit free-range chicken ballotine with cos lettuce, salt-roasted almond and herb salad with Parmesan and pickled berry dressing are added to the selection.
Smoked and pickled lamb's "soutribbetjie" with creamed corn and summer peas
In true Cape Winelands tradition, spices are used throughout, but in a subtle way. Expect brioche with fennel and star anise, saffron risotto and pickled beetroot with rose water vinaigrette.
Being the most important time of the year on a wine estate, the inspiration of harvest time features on the daily specials menu and in the farm shop with vanilla cake with white chocolate genache and fresh grapes, grape tartlets, grape ciabatta with rosemary and coarse salt and of course the traditional *mosbolletjies and must syrup.
For more information, please contact La Motte at +27 (0)21 876 8000 or info@la-motte.co.za
For restaurant reservations, please call +27(0)21 876 8800 or email us at pierneef@la-motte.co.za
A mosbolletjie is a typical South African sweetish bread – similar to brioche – baked from must and often dried as rusks.