---
---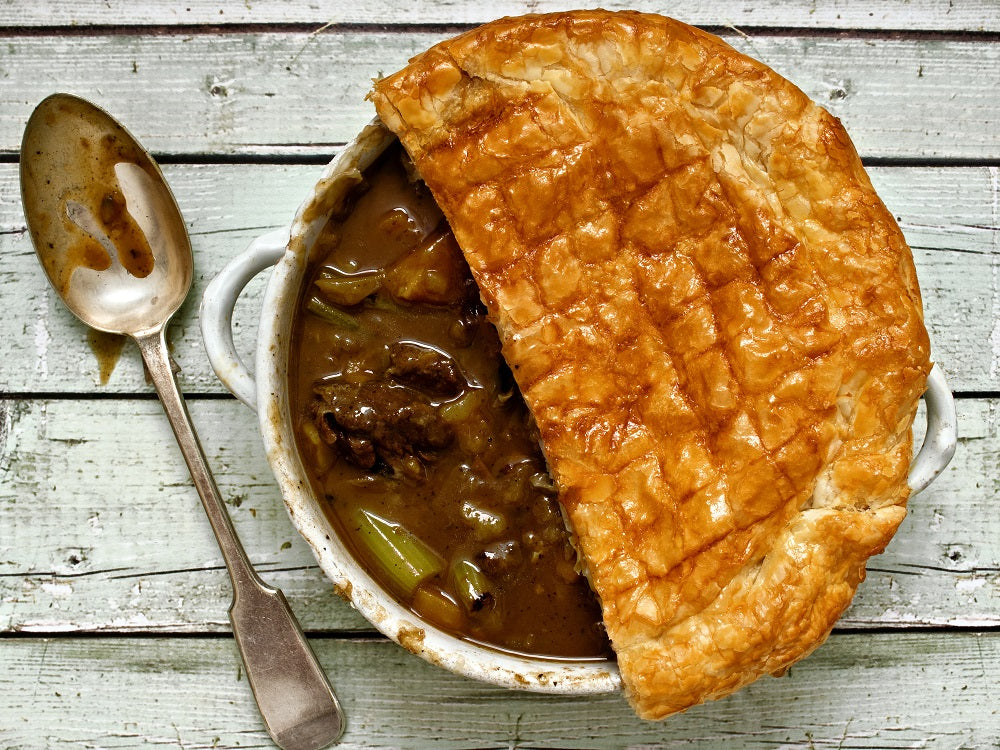 Pies date from the middle ages, when, with the limited ovens and equipment of the times, perfecting a pie required exceptional skill. Pies were therefore often used to impress and to showcase technique. (Just think of the nursery rhyme: 'Sing a Song of Sixpence' where Four and twenty black birds were baked in a pie!)
Try Pierneef à La Motte's recipe for an oxtail (deboned) pie – perfect for cooler weather! Serve it with quince preserve or a refreshing tomato salad and a glass or two of the 2017 La Motte Cabernet Sauvignon.
Recipe
Serves 8 - 10
5 kg oxtail
2 bottles red wine
200 ml dry sherry
1 tsp whole Cloves
1 tsp whole black pepper
1 tsp whole All spice
2 cinnamon sticks
2 onions, peeled and chopped
2 carrots, peeled and chopped
1 stick celery, chopped
2 cloves garlic, peeled and chopped
15 ml sunflower oil
30 g butter
1 bunch fresh Italian parsley
3 sprigs rosemary
1 tsp salt
5 L beef stock
Butter for greasing pie dish
1 egg, beaten
1 roll of ready rolled puff pastry
Method
Place the oxtail, wine, sherry and spices in a deep oven proof dish and add the chopped vegetables and fresh herbs. Marinade overnight.
The next morning remove the oxtail from the marinade, staring out the vegetables and herbs and reserving both the vegetables and liquid separately for later.
Heat the sunflower oil in a large saucepan and add the butter, brown all the oxtail pieces and return to the deep oven proof dish used for marinating. Now add the strained vegetables and brown, add the liquid and simmer until reduced by half.
Pour over the oxtail and top up with the 5L of beef stock. Cover the dish with a double layer of heavy duty foil and place in the oven to braise for 3 – 4 hours until meat falls from the bone.
Once cooked, remove oxtail from the cooking liquid, pick off all the meat from the bones. Reduce the cooking liquid by half, add the meat and season to taste, leave to cool.
Brush a suitable size pie dish with butter, place the oxtail mixture into the dish, roll out your pastry and trim the edges to fit your pie dish, cover the filling with the pastry and crimp the edges with a fork. 
Make two holes in the pastry to allow steam to escape.Heat the oven to 220 degrees, brush with beaten egg and bake until golden brown, 30 – 45 min.