---
---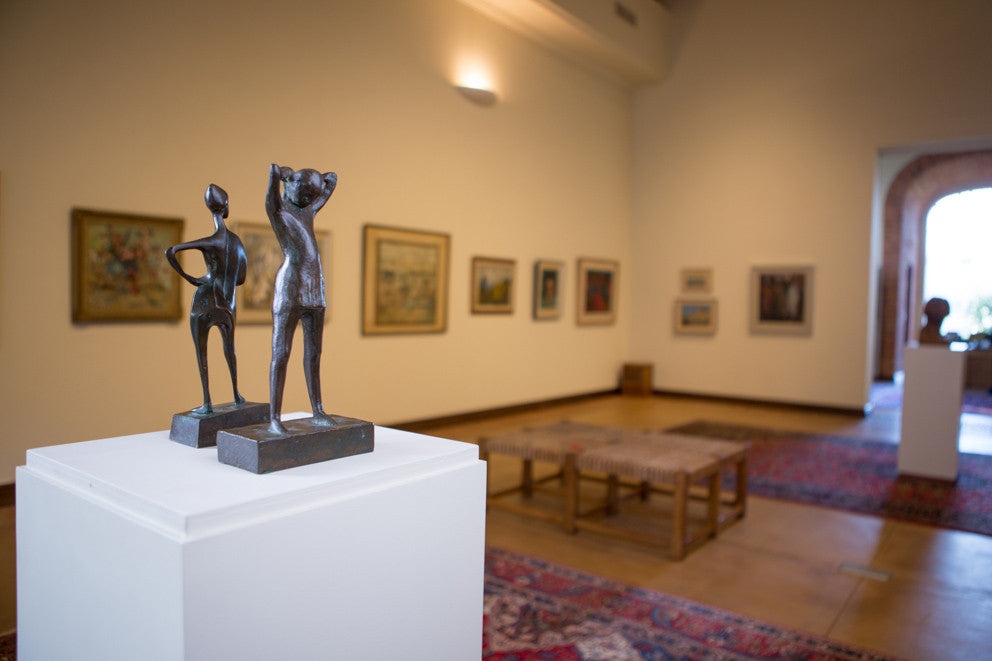 An exhibition aimed at highlighting the value of contributions by South African female artists during the past fifty years was opened in the La Motte Museum recently.
Assessing the value of contributions by South African female artists and the influence of their work on the development of South African art has, until now, received little attention. Is it because contributions by female artists have always been defined by male artists? The exhibition, Thoughtful Journey – a celebration of female artists, now allows the opportunity to make a rational evaluation. Works on display were selected by well-known collector of art Hanneli Rupert-Koegelenberg.
What the exhibition clearly illustrates is that South Africa's female artists have emerged as leaders in the local as well as international art arenas over the past fifty years. Judging by its reputation and popularity at art auctions it is especially Irma Stern's work that defines South African art in terms of an international perspective. Maggie Laubser's work – among the ten best sellers in South African art – also falls within this category. Stern and Laubser took part in the celebrated historic movements of Post-expressionism, German Expressionism and Fauvism when these movements caused an aesthetic revolution in Europe. These two artists embraced the stylistic features in their own work. They were to influence the development of two generations of artists.
During the 1950's and 1960's Cecily Sash, as part of the Amadlozi Group, played a leading role in the integration of European and Africa iconography. In this way a new visual language that could compete with European and American counterparts was created. This breakthrough had an effect on the development of South African art – especially Black art – that still holds good.
Female artists were exposed to Paris at an early stage. Bettie Cilliers-Barnard's studies under Jean-Paul Pons guided her towards a transformation from non-figurative to figurative art, for her to associate thoughtfully with man's place in and effect on society. These themes were exploited and developed by Judith Mason. Maud Sumner, who was also refined by her stay in Paris, was strongly under the influence of Post-impressionism, spurred on by her friendship with prominent exponents such as Matisse and Vuillard. After World War II she was inspired by the wide open spaces of the Africa landscape and was motivated to utilize it in creating a new vision and poetic interpretation thereof as a genre.
An iconic work is Three African Boys by Marianne Podlashuc. It was used as the cover illustration for Alan Paton's novel Cry, The Beloved Country, distributed world-wide by Penguin in 1961. Her important contribution was social-political sensitivities and portraits of black people in which their worthiness was honoured.
Another important influence on South African art was Marjorie Wallace's moving to South Africa in the late 1950's. In Paris she was a successful artist who enjoyed wide exposure to post-war artists, including Picasso. She integrated the influences in her work, creating an atmosphere peculiar to South Africa through which she formulated important social documentations of, especially, rural brown people. Her first exhibition in 1965 brought a new awareness which was to rid South African art of its "local realism".
Despite the physical challenge, sculptors such as Maureen Quin, Dorothy Kay and Elsa Dziomba made meaningful contributions. In her work, Dziomba, one of South Africa's first female sculptors, chose the human shape and reality as focal points, with strong undertones of tribal-related sculptor expressions. Kay and Quin were both very productive. Quin's career stretched over 60 years during which she created life-size works. One of her last big commissions was a statue of Nelson Mandela.
The contribution by women as museum directors (Ruth Prowse and Nel Erasmus) and lecturers (Eleanor Esmonde-White, May Hillhouse and Judith Mason), whose works are represented at the exhibition, not only guided students, but also influenced important developments in South African art and played a leading role in drawing the public's attention to art.
Although the exhibition affords visitors a good observation of the contribution of South African artists, it is not a complete representation of the works by the most prominent female artists. Still, it offers a meaningful view, to form an inclusive understanding of the contributions towards the collective image of South African art.
The exhibition, including lectures, is open for viewing from Tuesdays to Sundays and will run until June next year.