Toekennings / Awards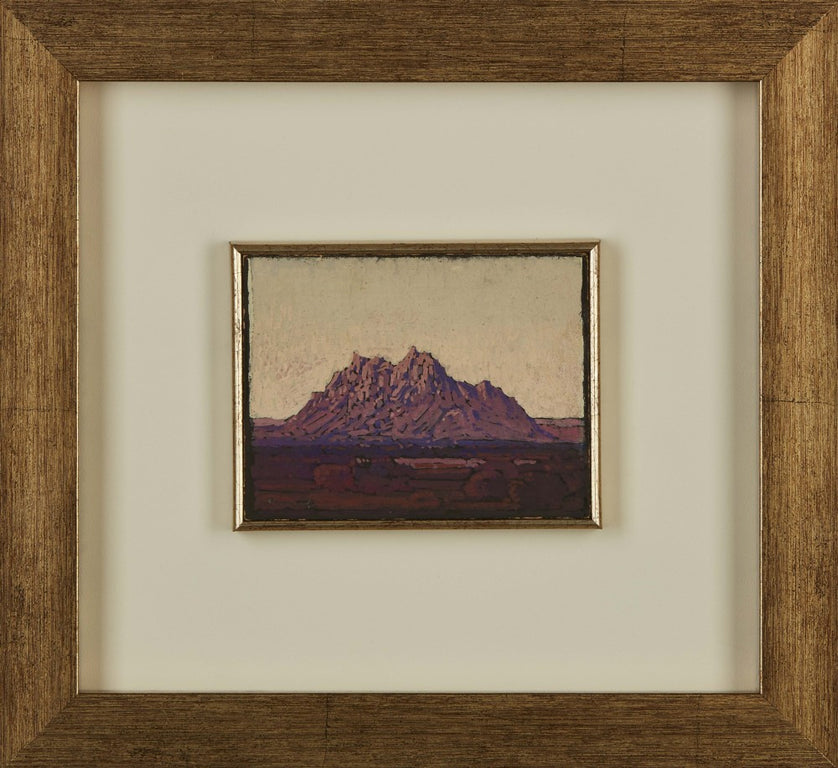 JH Pierneef (1886-1957)
Pers berge SWA/ Purple Mountains SWA, 1924. Gouache op karton/ Gouache on cardboard (9.5 x 12.5 cm). Versameling / Collection: La Motte Museum, Franschhoek
Okahandja, SWA. Linosnee / Linocut
10 x 12.7 cm. La Motte Syrah Studio. Versameling / Collection: La Motte Wynlandgoed / Wine Estate.
Berglandskap. Linosnee / Linocut
10 x 12.7 cm. Pierneef a La Motte Restaurant. Versameling / Collection: La Motte Wynlandgoed / Wine Estate
JH Pierneef (1886-1957)
Okahandja – SWA. 1929-1932. Johannesburg Stasiepaneel / Station Panel. Versameling / Collection: TRANSNET foundation
Pierneef het verskeie kleiner toekennings in sy loopbaan ontvang, veral vir kunswerke op uitstallings. Beslis die grootste was die Erepenning vir Skilderkuns. Die kunskomitee van die Suid-Afrikaanse Akademie vir Taal, Lettere en Kuns het Pierneef in Desember 1935 met hierdie erkenning en huldiging vereer vir sy Johannesburg Stasiepanele, sy aandeel in die versier van die Suid-Afrika Huis in Londen en sy algemene bydrae tot die Suid-Afrikaanse skilderkuns. Die eerbewys is op 26 Augustus 1936 aan hom oorhandig. Hy was die eerste kunstenaar wat die erepenning vir skilderkuns ontvang het.
In 1951 het Pierneef sy eerste eredoktorsgraad van die Universiteit van Natal ontvang, en 'n tweede eredoktorsgraad, van die Universiteit van Pretoria, is in 1957 aan hom toegeken. Kort voor die gradeplegtigheid in Pretoria het hy 'n hartaanval gehad, maar ywerig en geëerd om die gradeplegtigheid by te woon en self die toekenning te ontvang, is hy vir die geleentheid uit die hospitaal ontslaan.
In 1956 is erelidmaatskap van die Suid-Afrikaanse Akademie vir Wetenskap en Kuns ook aan Pierneef toegeken.
Pierneef received various smaller awards during his career, especially for his artwork on exhibition. The most important award was, undoubtedly, the Medal of Honour for Painting. In December 1935, the art committee of the South African Academy decided to honour Pierneef for his Johannesburg Station Panels, his contribution to the decoration of the South Africa House in London and his general contribution to South African painting. He received the award on 26 August 1936 — the first artist to receive a medal of honour for painting.
In 1951 Pierneef received his first honorary doctorate from the University of Natal, while a second honorary doctorate, from the University of Pretoria, was awarded to him in 1957. Shortly before the graduation ceremony in Pretoria, he suffered a heart attack, but eager and honoured to attend the ceremony and receive the award in person, he was released from hospital for the occasion.
In 1956 Pierneef also received honorary membership of the Suid-Afrikaanse Akademie vir Wetenskap en Kuns.