---
---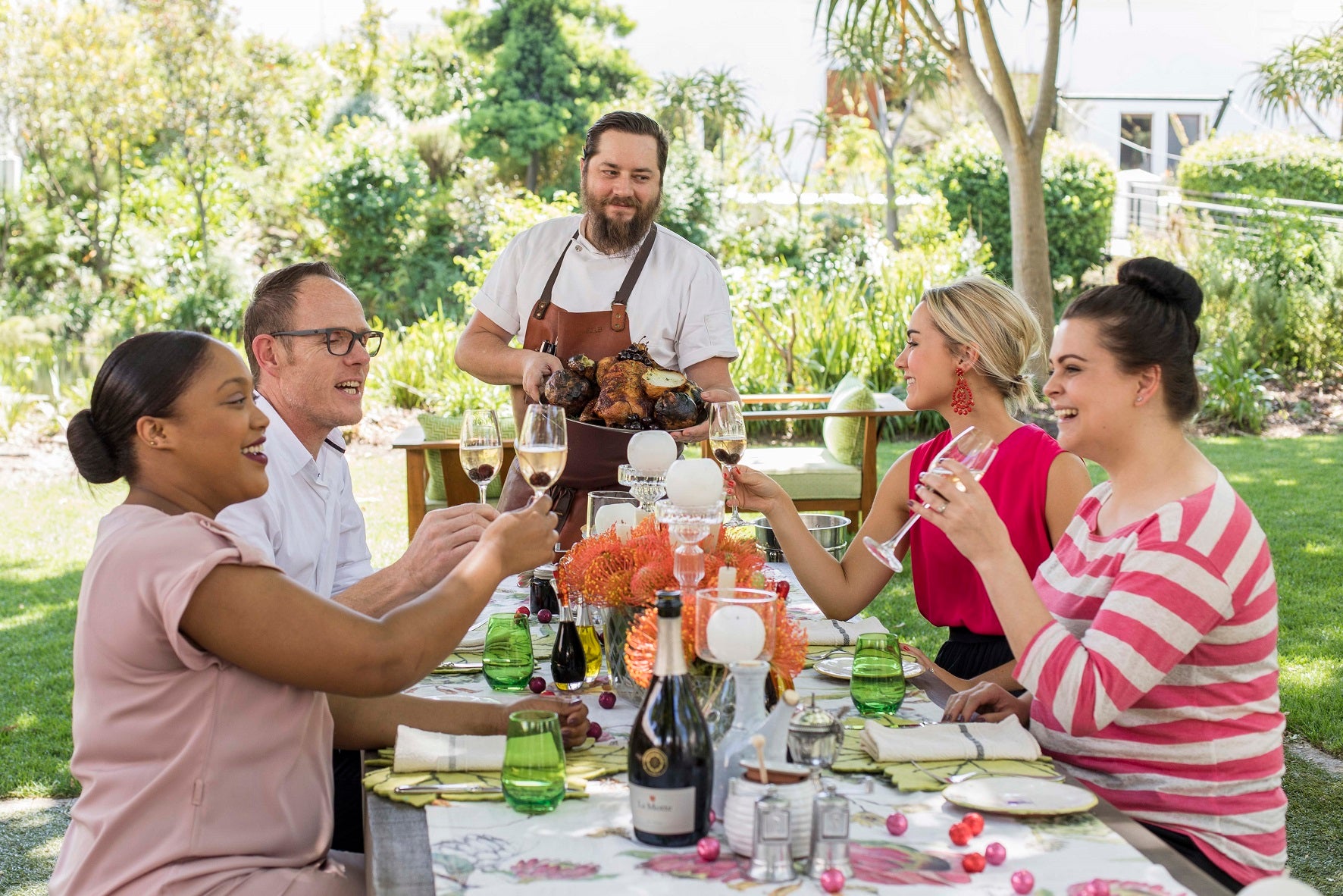 Chef Eric loves loves to feed people and for Christmas he loves to treat friends and family to something special. At the some time he does not believe in hours behind the stove or anxiousness about impossible recipes. Get a nice, chubby duck, seasonal cherries from Ceres and then roast a few sweet potatoes on the coals. Can it be so easy? Indeed, says Chef Eric!
Recipe for Festive Duck with cherries and charred sweet potato
Serves 6
Duck
1 Whole Duck (2,5 kg)
Salt and pepper to taste
Place teh duck on a wire cooling rack over the sink, poke holes into the skin with a sharp fork to allow fat to escape during the roasting process.
Poor two litres of boiling water over the duck and pat dry with a clean dish cloth ensuring that the skin is completely dry.
Place theuncovered duck in the fridge for 24 hours, to allow the skin to dry out - this will aid in a crispier roast.
Preheat the oven to 220 degrees Celcius.
Season the duck with salt and coarse pepper and place in the hot oven.
Roast for 45 minutes, then turn the oven down to 200 degrees and roast for another 45 minutes. (General rule of thumb is 20 minutes for every 500 g.)
When the duck is roasted take out of the oven and rest for 20 minutes in a warm spot.
Sweet potatoes
Serves 6
 6 Small (+/- 150 g)  Sweet Potatoes
Salt and pepper
30 g Butter per sweet potato to serve
In South Africa we would often have a fire going during Christmas and there is no better complement to duck than a sweet charred sweet potato.
Wrap sweet potatoes in foil and place directly into medium hot coals, make sure to turn them often as we are looking for a slight char and not a complete burn.
The skill comes in to get an even char and cook the sweet potato till very soft.
You could also throw in a few carrots and onions to go through the same treatment.
After roughly 45 minutes the sweet potatoes should be ready and can be tested using a sharp knife.
Serve hot with a good sprinkling of salt and pepper and a dollop of good farm butter. 
Cherries
Makes enough for 2 x 1 liter jars
Cherry season is usually during November and December, but you can always preserve as many as you can for the months to come.
1,5 kg Red ripe cherries
500 ml Vodka
500 ml Cherry juice
500g  Granulated sugar
1 Vanilla bean
Wash and pit the cherries,
In a sauce pot, mix the sugar and cherry juice.
Bring to a boil to dissolve the sugar.
Take of the heat and add the vodka and scraped vanilla bean.
Pour liquid over cherries whilst hot and place in sanitised jars for storage.
Ensure the cherries are covered and weighed down to always be submerged in the liquid.
Enjoy as a side to the duck, on a late night cheese platter or in our recipe for a cherry trifle!
Serving suggestions: Arrange your charred potatoes and preserved cherries casually around the centre-piece duck and then open the all-important bottle of 2016 La Motte Millennium to accompany your festive family meal!