---
---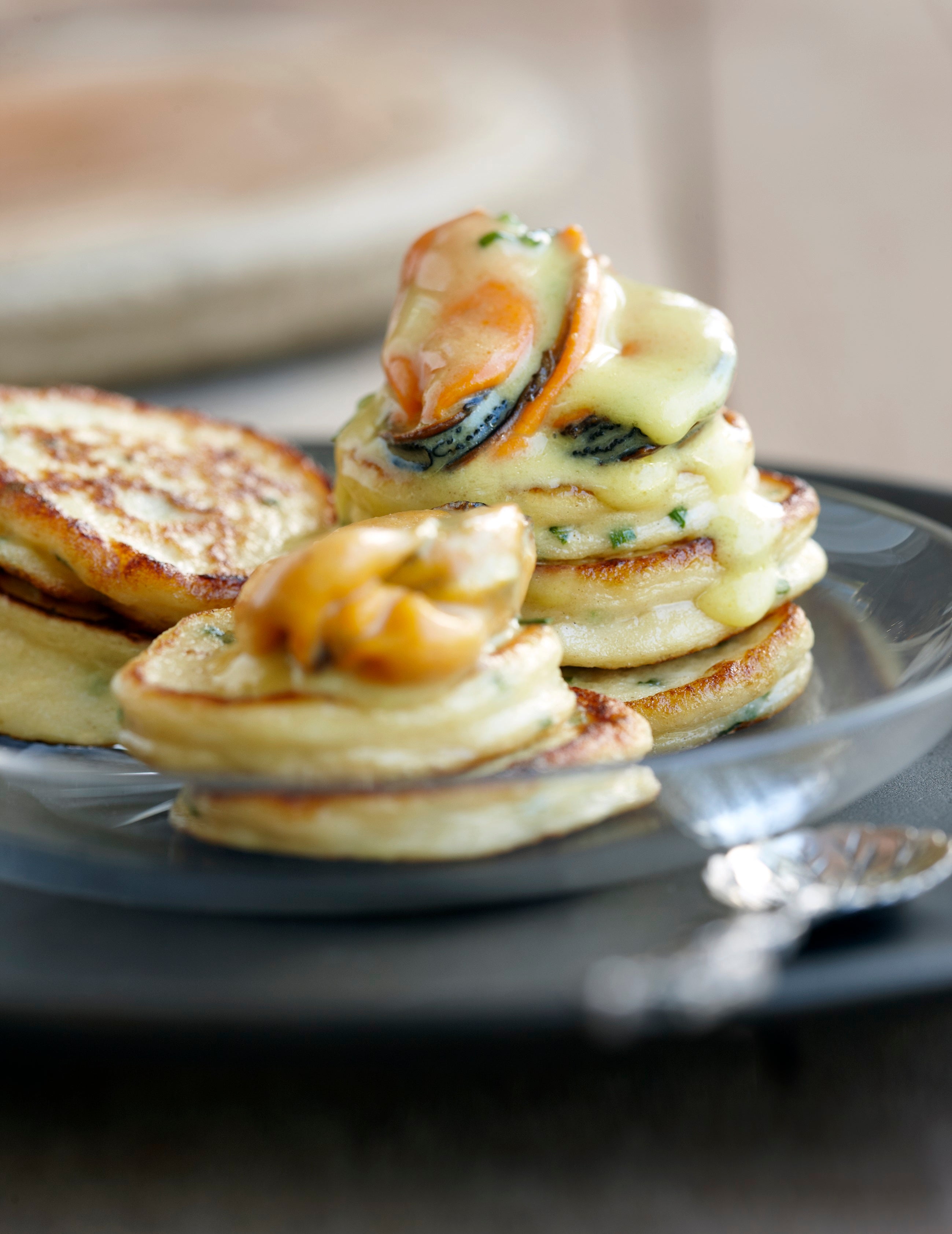 Start your Valentine's dinner with these lightly curried mussels on pancakes and you would have cooked your way all the way to the heart of your loved one. Serve it with a glass of our delicious 2013 La Motte Chardonnay and you will have exceed all Valentine's expectations – that is guaranteed!
From our Cape Winelands Cuisine Cookbook (page 71), this recipe is adapted from an old fifteenth-century Dutch cookbook titled Wel ende edelike spijse.
Lightly Curried Mussels on Potato Pancakes
Potato Pancake Batter
(for 18 small pancakes)
Ingredients
250 g cooked mashed potatoes
½ tsp (7.5 ml) ground coriander
¼ teaspoon (1 ml) ground cumin
1 tsp (5 ml) chopped fresh parsley
pinch of freshly ground black pepper
¼ tsp (1 ml) salt
2 eggs
1 egg yolk
1 Tbsp (15 ml) sour cream or cream cheese
3 Tbsp (45 ml) buckwheat or cake flour
1 Tbsp (15 ml) olive oil
Method
Beat the mash, spices, parsley, seasoning, eggs, egg yolk and sour cream or cream cheese until well mixed. Fold in the flour and leave to rest for 1 hour in the refrigerator.
Heat a non-stick or blini pan and add a little of the olive oil. Scoop 1 Tbsp (15 ml) of pancake batter into the pan and flatten slightly. The pancakes must be about 6mm thick and 3 cm in diameter.
Fry until light brown and flip gently. The pancakes must be light, thin and not too firm. Repeat until all the batter has been used.
Curried Mussels
Ingredients
1 tsp (5 ml) olive oil
1 onion, sliced
1 tsp (5 ml) coriander seeds
½ tsp (2.5 ml) mustard seeds
pinch of saffron
1 lemon leaf
1 tsp (5 ml) lemon zest
1 clove garlic, sliced
1 tsp (5 ml) chopped fresh root ginger
2 tsp (10 ml) fish curry mix
1 cup (250 ml) fish stock
1 cup (250 ml) Chardonnay or other dry white wine
18 fresh black mussels, beards removed and rinsed (discard any that are open), or frozen mussels
1 cup (250 ml) fresh cream
1 Tsp (5 ml) chopped fresh dill
salt and freshly ground black pepper
sorrel, for garnishing
Method
Heat a saucepan and add the olive oil. Add the onion, coriander and mustard seeds, saffron, lemon leaf and zest, garlic and ginger. Sweat until soft.
Add the curry mix and cook for 1 minute. Add the fish stock and wine and bring to the boil.
Heat a frying pan with a tight-fitting lid until very hot. Add the mussels and the onion and stock mixture and place the lid on top. Steam for a few minutes until the mussels are open (discard any that have not opened).
Strain the sauce through a sieve, and then place the sauce back on the heat and reduce until thick. Add the cream and cook to desired consistency. Add the dill and season to taste.
Place the mussels back in the sauce and heat through. Create a stack of three mussels and three pancakes per portion, drizzle the mussels with sauce and garnish with sorrel.
Serve with a glass of La Motte Chardonnay – it is made for seafood and the mussels with its creaminess and light curry flavour will be a match made in heaven!