---
---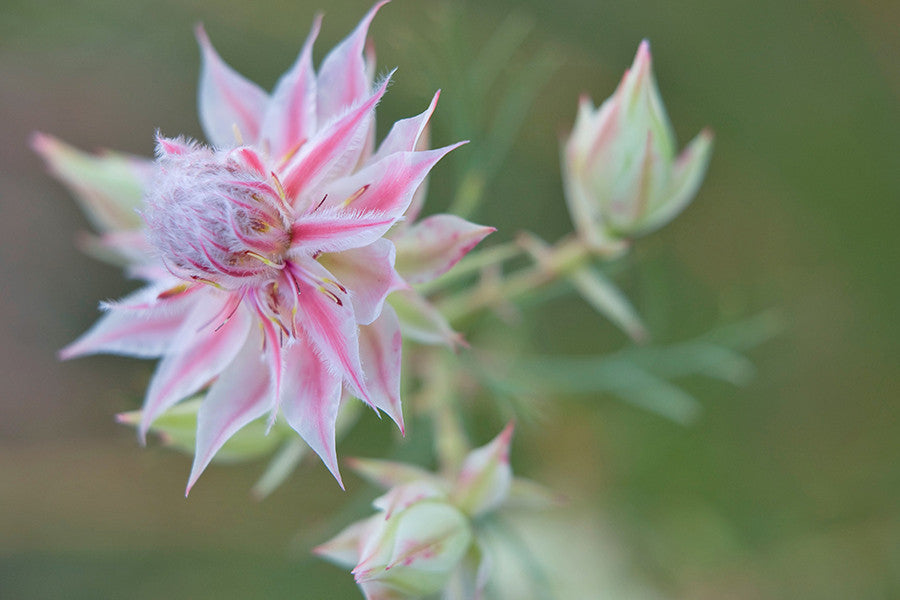 The Blushing Bride, a rare white or pink flower with silky, pointy petals, is somewhat of a legend in the Franschhoek Valley. The story goes that it was discovered in the surrounding mountains in 1773 and came by its romantic name from its use in a rather romantic tradition. A French Huguenot farmer who was in love would wear this flower in his lapel when he decided to propose to the girl he fancied. The pinker the flower, the more serious his intentions were, causing the bride-to-be to blush at the sight of the flower.
Sadly, as with other near-extinct fynbos varieties in the region, the Blushing Bride disappeared from sight for many years. It was rediscovered about a century ago and since then conservationists have been determined to return the iconic flower to its former glory.
Also known as the Franschhoek Pride, the Blushing Bride is a member of the Proteaceae plant family – a component of the South Western Cape region. Serruria florida has a high economic potential. It is easily grown from seeds, responds very well to pruning, is a fast grower and flowers within 15 months of germinating. However, it is relatively short-lived and only produces a commercially viable crop for about three years. As a garden plant it is superb, provided its roots are not disturbed.
Today Blushing Brides, rare disas and various kinds of proteas are being brought back to life on La Motte Wine Estate in Franschhoek, where they can be seen in full bloom in the estate's large Protea Garden. La Motte lovingly cultivates these rare flower varieties and re-establishes them on the slopes of the Wemmershoek mountain on the estate.
In season, from May to July, blushing brides are available from the La Motte Farm Shop.