---
---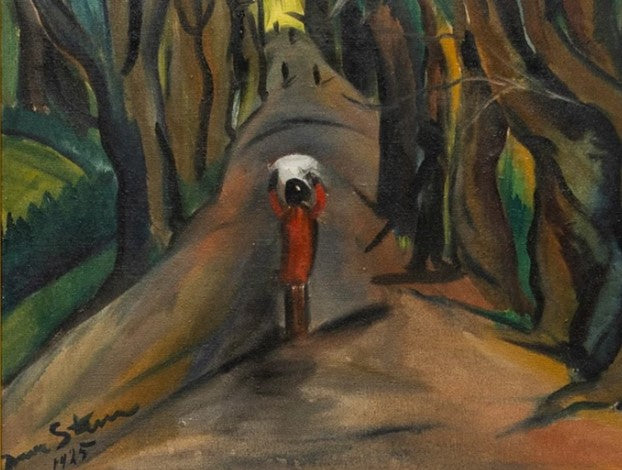 What a privilege it is to have art in our homes. Whether it is a really valuable work, a piece of beauty or just something sentimental, art can bring us joy, memories and even contemplation. Art can easily outlive you - if you take good care of it. Elzette de Beer, curator at the La Motte Museum shares her thoughts on how you can maintain and protect your art at home.
Art conservation is an interdisciplinary field aimed at protecting art from damage and deterioration through a combination of art knowledge, historical research, scientific analysis and material sciences for maintenance and preservation. Art restoration shares the same principles, but more specifically refers to the repair of artworks which have already suffered damage or decline.

Routine preventative conservation is of the utmost importance when it comes to valuable works and sometimes, it might even hold a surprise! Irma Stern's painting The Avenue (1925) is currently part of the the La Motte Museum's exhibition, Celebrating the Love of Art – a personal selection by Hanneli Rupert-Koegelenberg. Following the purchase of this work for the Rupert Art Foundation, the conservator, Peter Spence, suspected a covered painting on the back of the canvas. He removed a pasted down dustcover to reveal a complete painting of flower pickers by Stern!
An example of complete restoration, on the other hand, can be seen in the Käthe Kollwitz sculptures Pieta (1937-1939) and Turm der Mütter (1937/38) which survived a fire at an art storage facility. The bronze sculptures were rescued from the rubble and re-patinated to their former glory. Photos of the process can be viewed at the museum upon request. 
Another example of grand restorations are the recently completed Ghent Altarpiece by Hubert and Jan van Eyck (completed in 1432) and the research and conservation project of the Night Watch (1642) by Rembrandt van Rijn, titled Operation Night Watch which can be viewed live as it is happening in the museum.
A basic understanding of preventative practices is also relevant to your own collection, regardless of whether it is a valuable original artwork, a reproduction of special sentiment, or even your own or children's creations hanging on the walls at home. Various factors influence the condition of art - from harmful environmental factors to display and storage conditions and handling errors.
Here are a view practical tips on how to care for your own collection:
Monitor artwork for obvious damages or deterioration. Look for lifting paint, discolouration or small holes which may indicate insect infestation. Also inspect the back of the work and the frame.
Light can damage artwork and cause the colour to fade. Change in temperature and humidity can cause work on paper to wave and paint to crack. Therefore, avoid direct daylight and lamps. Try not to install artworks against an outside wall or ensure a space between the frame and wall to counter excess moisture and heat. Try to ensure a stable in-house climate and and give consideration to open doors, heaters, and fireplaces.
Handle artwork as little as possible and wear cotton or rubber gloves depending on the material and required grip. Hold works with both hands and carry it away from the body, facing you according to its original orientation. Use reliable tools during installation or arrange the service of a professional installer.
Keep both the artwork and the immediate environment clean. Dust absorbs moisture which could cause mould. Artwork can be cleaned using a big soft artist brush and careful horizontal strokes starting at the top and systematically moving down. A slightly damp micro-fibre cloth van be used for work framed behind glass.
Work on paper should be framed and mounted with acid free materials and the back of the frame should be sealed. UV-protective museum glass is a good investment for conserving important work.
When storing artworks, the selected area must be safe and conditions consistent. Try to elevate work slightly, and store framed artworks back-to-back and front-to-front. Inspect work regularly for any changes or deterioration.
Visit the La Motte Museum for advice on caring for your collection or send an enquiry to museum@la-motte.co.za to be referred to a recommended conservator or restorer.
Featured image, detail of The Avenue (1925) by Irma Stern Rupert Art Foundation