---
---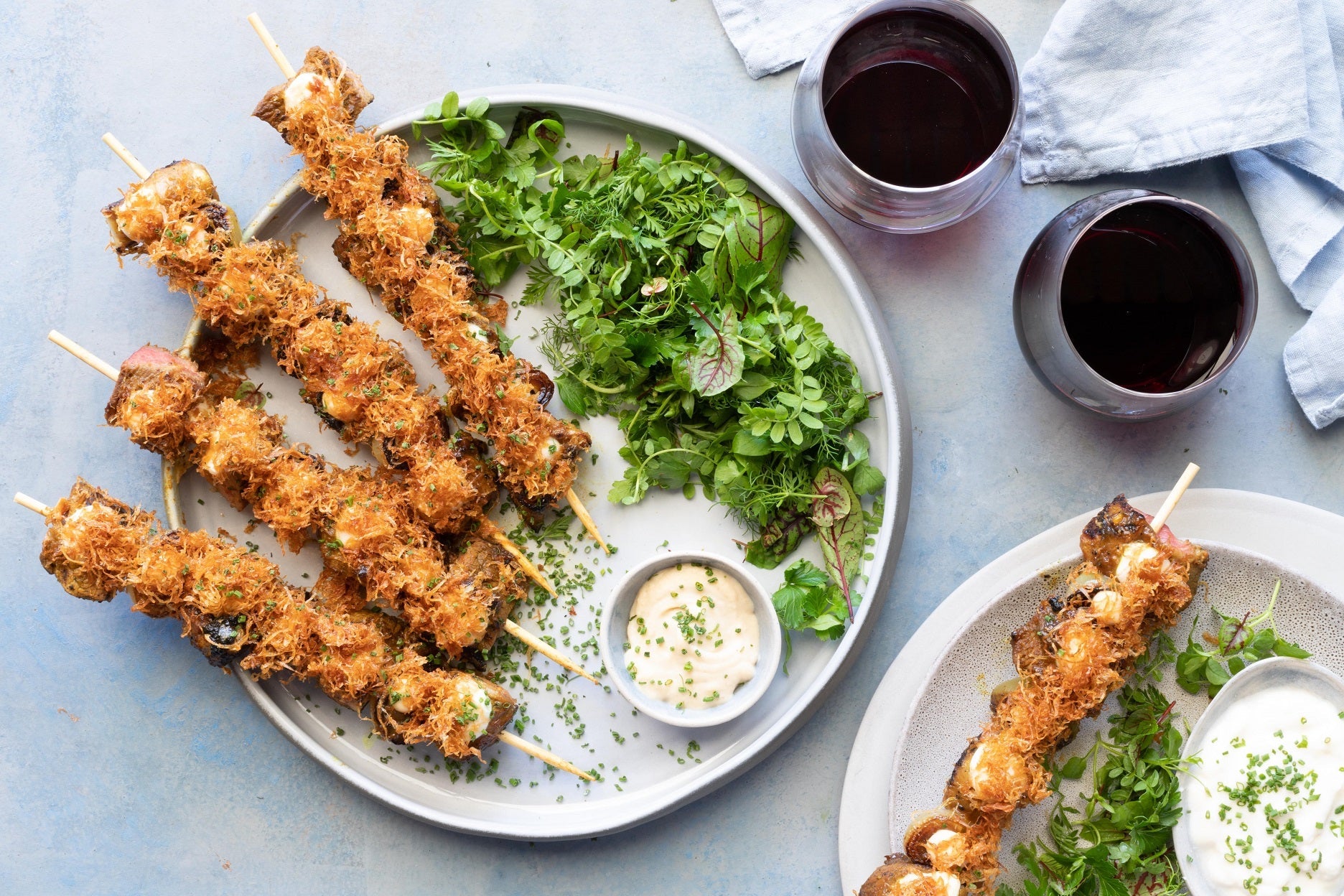 Lamb sosaties with their aromatic curry marinade is synonymous with a summer's braai. Add crispy onions and labneh and elevate the traditional dish to something that is modern and sensational for summer. Do serve with the 2017 La Motte Syrah.
Lamb
1 kg lamb rump
Marinade
olive oil
180 g onion, chopped
20 g ginger, finely chopped/microplaned
60 g garlic, finely chopped/microplaned
30 g masala spice
15 g ground turmeric
2 tsp (10 ml) white wine vinegar
60 g apricot jam
15 g salt
10 g pepper
Banana Purée
600 g peeled banana
50 g butter
¼ C (60 ml) brandy
200 g yoghurt
50 g sugar
Bruléed Baby Onions
8 baby onions, sliced in half widthways
50 g butter
10 g salt
10 g thyme leaves, picked
Labneh
250 g buffalo yoghurt (or cows milk yoghurt)
15 g salt
10 g pepper
Crispy Onions
1 whole large onion
1 egg, whisked
⅓ C (80 ml) flour
sunflower oil for frying
salt for seasoning
To Serve
handful of chives, finely chopped
Marinade
Sweat the onion, garlic and ginger in a heated saucepan with a drizzle of olive oil.
Add the turmeric and masala spice and fry until aromatic.
Deglaze the pan with white wine vinegar and mix in the jam while warm. Season to taste. Allow the marinade mixture to cool completely.
Cut the lamb rump into 2 cm strips and cover with the cooled marinade. Cover with cling wrap place into the fridge and allow to marinate for at least 4 hours, or overnight if possible.
Banana Purée
Sweat the bananas with the sugar and butter in a saucepan. For best results, cover the pan with a cut circle of greaseproof paper, which allows the ingredients to sweat and cook gently.
Deglaze the pan with brandy once caramelised and then ignite to burn off the alcohol. Blend the banana mixture with yoghurt bit by bit to achieve a thick, sauce-like consistency and then season to taste.
Bruléed Baby Onions
Heat olive oil in a saucepan. Add the onions cut side down with the salt and thyme. Once the onions start to colour, add the butter, this will allow the onions to caramelise further and cook through fully. Once cooked, gently remove and set aside.
Labneh
Put the yoghurt in a colander lined with a clean kitchen towel or a piece of cheesecloth. Place the colander over a bowl, cover with cling film and leave overnight in the fridge, allowing the water and whey to drain out.
The next day, season to taste and set aside until ready to use.
Crispy Onions
Peel the onion, slice in half and then slice both halves into thin slices. Slice the onion slices again to achieve small sections, about 1 cm in length. This doesn't have to be too precise you just want to have smallish sections to work with.
Heat the sunflower oil in a deep-sided saucepan to 180 ºC for deep frying.
Place the flour into a bowl and lightly whisk the egg in a separate bowl.
Scoop up a pile of onions, dip into the whisked egg, shake off the excess and then drop into the flour and toss to coat.
Scoop up the dredged onion pieces and place carefully into the hot oil. Fry until golden brown and then use a slotted spoon to remove from the oil. Drain on kitchen paper. Repeat until all of the onions are cooked. Set aside.
To Assemble
If you want to cook your sosaties on the braai: Cut the lamb rump strips into 2 cm cubes, build the sosaties - skewer 1 cube of lamb with 1 half onion and continue until the skewers are full. Braai to your preferred temperature - medium rare is recommended.
If you prefer to cook them on the stove: Heat olive oil in a saucepan or griddle pan and cook the lamb rump strips to your preferred temperature - medium rare is recommended. Cut into 2 cm cubes and set aside. To build the sosaties, skewer 1 cube of lamb with 1 half onion and continue until the skewers are full.
Use a teaspoon to dollop the labneh and banana purée onto the sosaties and alternate as you go. Top with crispy onions and chopped chives season and serve.
Chef Eric Bulpitt shared this recipe with Crush Magazine.