---
---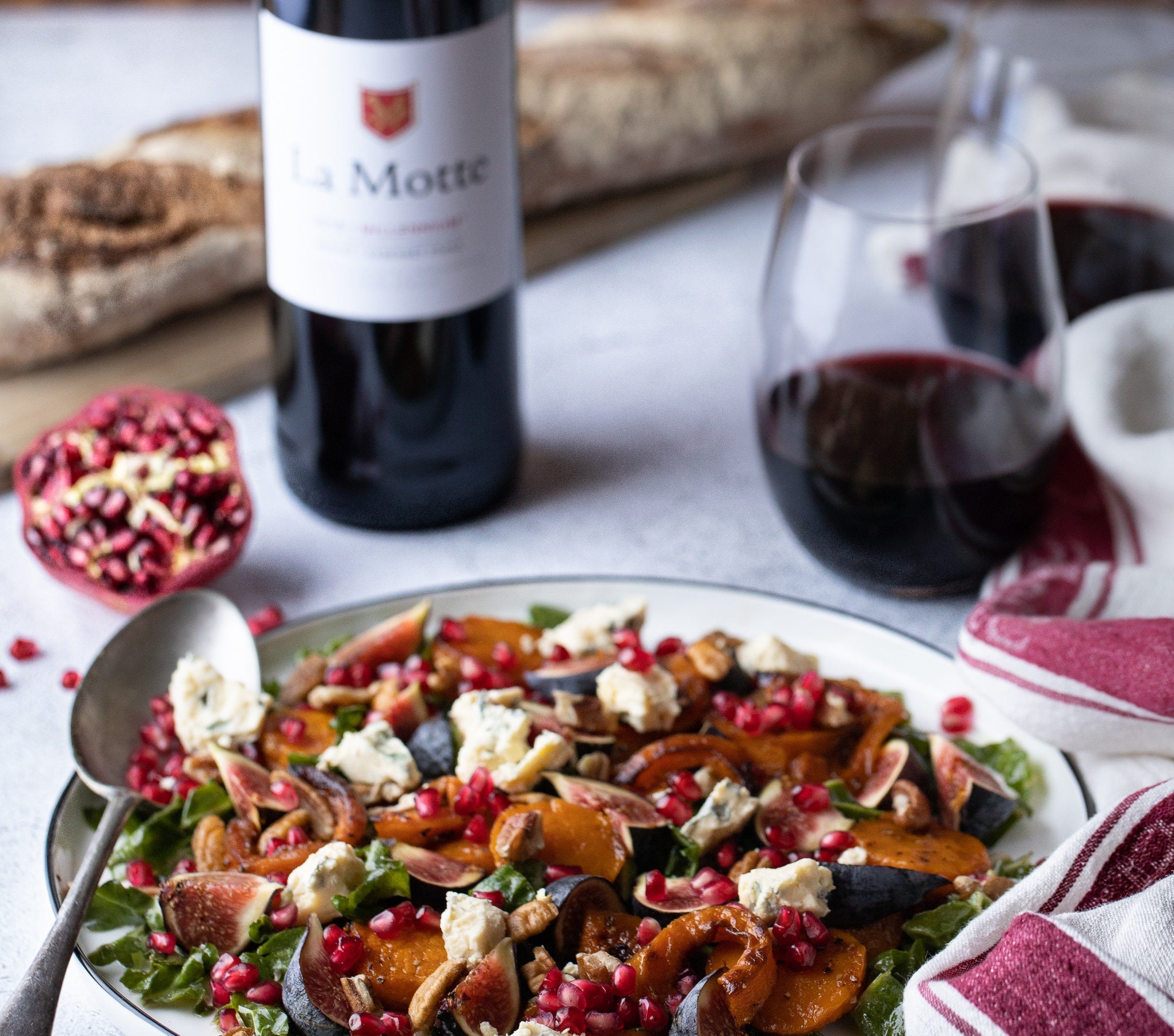 Salads have found a new lease on life. No longer are they only iceberg lettuce tossed with tomato and cucumber! No, today's salads contain anything from raw to cooked, vegetable to fruit, meat, dairy and lovely textures in the form of croutons or nuts. With their delicious complexity of flavours, salads have their own demands when it comes to wine pairings. Long gone are the days of the go-to refreshing Sauvignon Blanc and "salad" pairing!
Try this recipe for a salad of butternut, fig, pomegranate and blue cheese with the 2018 La Motte Millennium. It is a beautiful side, but also quite easily a meal on its own.
Ingredients:
1 medium butternut, peeled and sliced into 1 cm thick slices (remove seeds)

30 ml (2 tablespoons) olive oil

15-30 ml (1-2 tablespoons) honey

salt & pepper

dressing:

3 tablespoons olive oil

1 tablespoon apple cider vinegar (or lemon juice)

10 ml Dijon mustard

5 ml honey

about 150 g swiss chard spinach, chopped (stems finely sliced) - or use rocket leaves

6-8 ripe black figs, sliced

100 g blue cheese, crumbled

seeds of 1/2 ripe pomegranate

1/2 cup (50 g) pecan nuts, roughly chopped
Method:
Preheat oven to 220 C. Arrange the butternut on a large baking sheet lined with non-stick baking paper. Drizzle all over with olive oil and honey, then toss with a spatula to cover on all sides. Season with salt & pepper, then roast for 20-25 minutes or until brown on the edges and tender.  Remove from the oven and let cool.
Make the dressing: add the olive oil, vinegar, mustard and honey to a small jar, season with salt & pepper and shake vigorously. Add the spinach to a mixing bowl, then add half the dressing and toss to coat all over. Transfer the dressed spinach to a salad serving platter, then add the glazed butternut, figs, blue cheese, pomegranate seeds and pecan nuts. Serve at once (the dressed spinach will continue to wilt on standing).
(Recipe & photography by Ilse van der Merwe www.thefoodfox.com)