---
---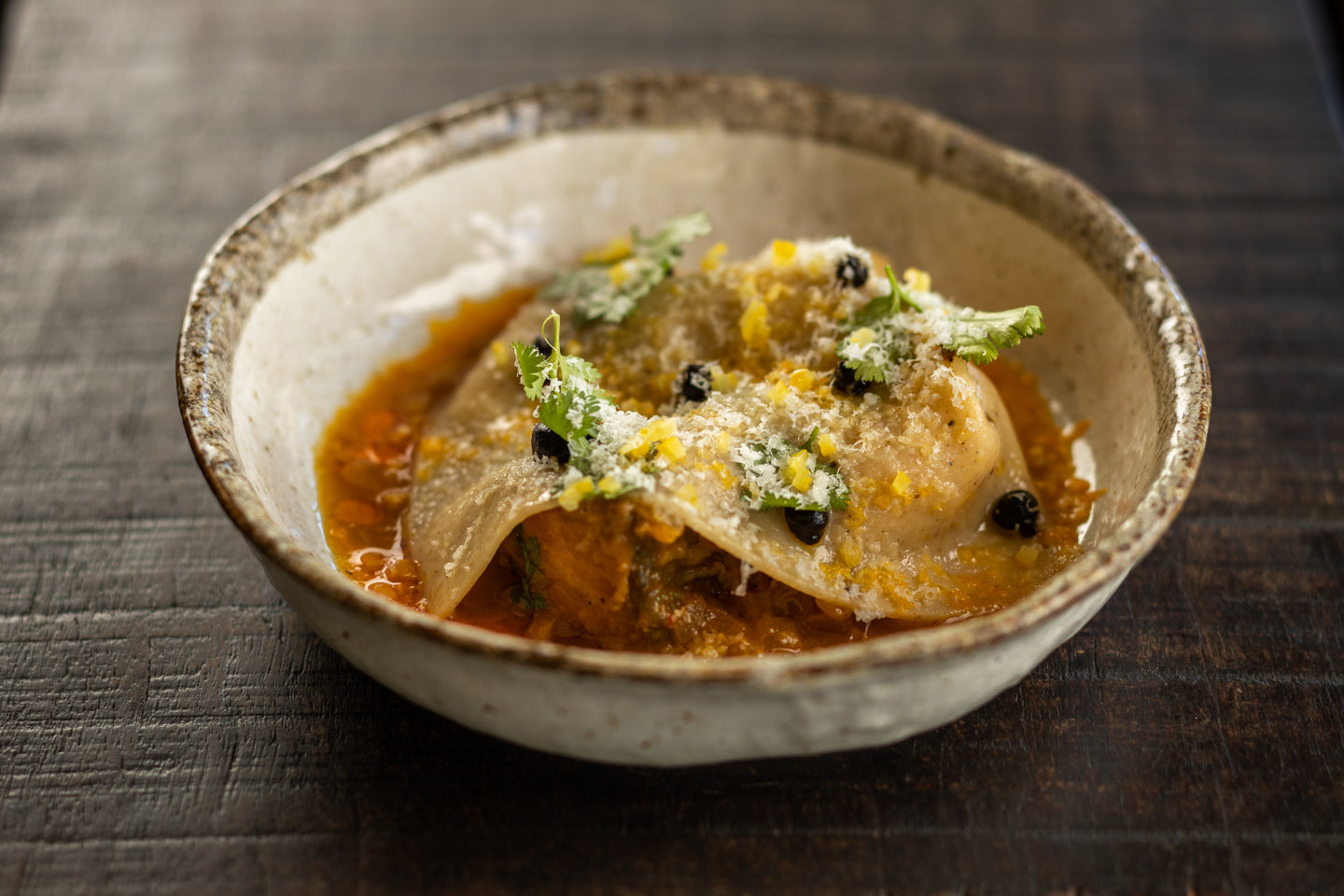 Chef Eric shares his recipe for a Cape Seafood Lasagne to enjoy with the 2021 La Motte Sauvignon Blanc. It has beautiful Cape curry flavours, preserved lemon and goat's cheese that work exceptionally well with the Sauvignon Blanc.
He shares the complete recipe for those who enjoy a challenge in the kitchen, but you can buy your preserved lemons and marsala oil from a deli, get a seafood curry mix from the La Motte Farm Shop and use store-bought lasagne sheets rather than making your own.
Cape Seafood Lasagne with preserved lemon and goat's cheese
Seafood
200 g Hake
200 g Cape salmon
200 g Squid
150 g Flour for dusting
Salt
Pepper
1 Lemon juice
1 lt Canola oil for frying
Cut the fish into 50 g portions and season with salt, pepper and lemon juice. Allow to rest for 30 minutes.
Slice the squid very thinly and keep in the fridge till last minute.
Warm up the oil in a saute pan. Dust the fish in the flour and shake the excess off. Fry the fish in the oil on a medium heat until it turns light golden remove and reserve.
Curry base
6 Onions
60 g Garam masala
10 g Tumeric
4 g Coriander seeds toasted
4 Star anise
4 cinnamon sticks
5 g Ginger
2 g  All spice berries
2 Bay leaves
50 g Tomato paste
2 lt  Fish stock
150 g Malt vinegar
500 g Cream
10 g Salt
In a sauce pan toast all your seeds and spices. Remove and keep for later. In the same sauce pan, warm up some canola oil, add onions, ginger, bay leaves and sweat until the onions transparent and soft. Add the garam marsala and cook for 2 minutes on very low. Add all the spice and tomato paste and cook for 2 minutes. Deglaze with the vinegar and reduce until the vinegar has completely cooked down. Add the fish stock and season with salt. Simmer for 20 to 30 minutes. Add the fish and cook for 10 minutes.
Add the squid and take off the heat. Stir through and season with lemon juice.
Lasagne sheets
200 g Italian soft wheat flour '00' (14 oz) All purpose flour can be used too.
400 g Potatoes cooked
10 g salt
1 Tbs Masala spice
To make the lasagne sheets
Preheat your oven to 180 degrees. Have all your ingredients ready and equipment ready before starting.
Take 4 large potatoes and poke them full of holes, place them on a baking tray and bake in the oven for 90 minutes. After baking you need to work very fast. Scoop out the cooked insides of the potatoes while still piping hot. Weigh of 400 g and place in a mixing bowl, add the salt, flour and spice. Using a wooden spoon mix all the ingredients to form a dough ball. Have extra flour available for dusting. Lightly dust the ball and start kneading lightly to incorporate all the flour. Don't overwork. Divide the dough into 6 pieces and roll each piece to 2 mm thick. Make sure it doesn't stick to your work surface.
Have a pot of salted boiling water and a mixing bowl with ice water ready.
Cut each piece of dough to your desired size. Working quickly blanch each piece in the boiling water for one and a half minutes and refresh in the ice water. Gently remove and drain on kitchen cloth. Store in a container that was brushed with olive oil. Brush every sheet with a little olive oil to prevent sticking and drying out.
Garnish
Fennel tops
Fried parsley
Preserved lemon
Goats cheese
Pick the fennel tops into small pieces and store in water.
For the parsley we use a technique involving the microwave. Cling film a large microwavable dinner plate. Brush the clingfilm with a neutral oil. Dip the parsley in the same oil and lay completely flat on the cling film. Microwave for 2 minutes in 30 second intervals until crisp. Transfer onto paper towel until assembling your dish.
To make preserved lemon
10 Lemons
500 g Medium grain sea salt
Wash lemons. Top and tail them and cut a X, ¾ down the lemon to create four wedges attached at the bottom. Fill each lemon with a tablespoon of salt and place in a glass jar. Store in a cool pantry or fridge for at least a month and up to two years. For the dish we scrape out the flesh and pith of the lemon and cut the peel into strips. Reserve for garnishing your dish.
Marsala Oil 
20 g Cumin
10 g Coriander
20 g Paprika          
20 g Chilli flaked
10 g Cardamom
10 g Cinnamon
10 g Star anise
10 g Garlic powder
10 g Onion powder
10 g Ginger powder
10 g Dried curry leaves
100 g Tomato paste
2 lt Canola Oil
Toast all spices and blend fine in blender. Place in a sauce pot with the oil and tomato paste and cook out for 30min on low heat. Cool and drain off the oil. Keep in a small bottle for later use. Do not discard the spice paste. It can be used for curries.
To serve:
In a small bowl dish some of your curry, drape over a lasagne sheet, garnish with the fennel tops, parsley, crumbled goats' cheese and preserve lemon. Pour over a little masala oil to finish.