---
---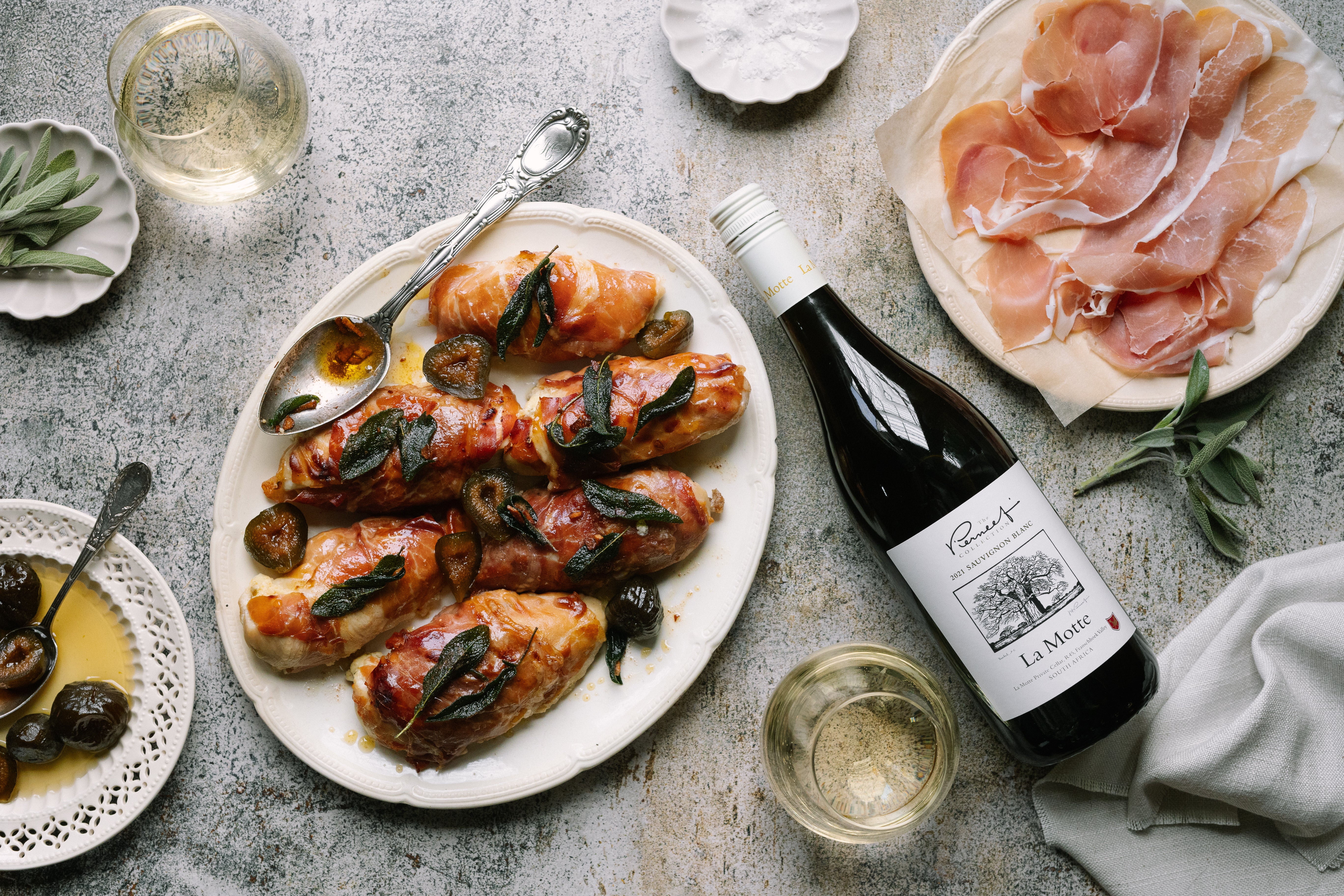 "Chicken breast is a reliable everyday staple, but it can be elevated to an elegant dinner party main course if treated right. The ricotta filling contains added lemon rind, chopped green fig and parmesan cheese, making it a savoury and just slightly sweet surprise when you slice into it. The prosciutto keeps the meat moist and adds fantastic flavour. A spoonful of browned butter with crispy sage leaves takes it to the next level. Serve with soft mashed potato or creamy pureed cauliflower. For the final elegant touch to your meal, enjoy dinner with a beautiful glass of the 2022 Pierneef Sauvignon Blanc."
Prosciutto wrapped chicken breast with ricotta & green fig stuffing
Recipe, intro and image by TheFoodFox 
Ingredients
Serves 4
250 g ricotta cheese 
½ cup parmesan cheese, finely grated
2 medium or 3 small preserved green figs, halved
15 ml lemon rind, finely grated
salt & pepper, to taste
4 large or 6-8 smaller chicken breasts, boneless & skinless
about 200 g thinly sliced prosciutto
olive oil, for brushing
100 g butter 
1 clove garlic, finely chopped 
a small handful sage leaves, woody stalks discarded
mashed potato or creamy cauliflower puree, to serve (optional)
Method
Make the filling: in a food processor or blender, add the ricotta, parmesan, figs, lemon rind, and season with salt & pepper. Blend to a relatively smooth paste, then set aside.
Preheat the oven to 200 C.
On a clean working surface or cutting board, lay out the chicken breasts and slice them open horizontally, not cutting all the way through. Season the cut sides with salt & pepper. Place a heaped tablespoon of filling in the slits, spreading them out to cover from side to side, then close the breasts. Use slices of prosciutto to wrap each stuffed breast, then arrange on an oiled baking tray.
Brush the tops with olive oil, then bake for about 20-25 minutes depending on the size of the breasts (do not overcook, test one by slicing through the middle to see if the meat is cooked through).
While the chicken is in the oven, make the butter drizzle: in a small saucepan, melt the butter then add the garlic and give it a stir. After about 15 seconds, add the sage leaves and stir well. Cook for about 30 seconds, then remove from the heat and leave to stand so the foam will subside.
When the chicken is ready, remove from the oven and serve at once, with a spoonful of sage butter and a few crispy sage leaves, with your choice of mash or puree etc.