---
---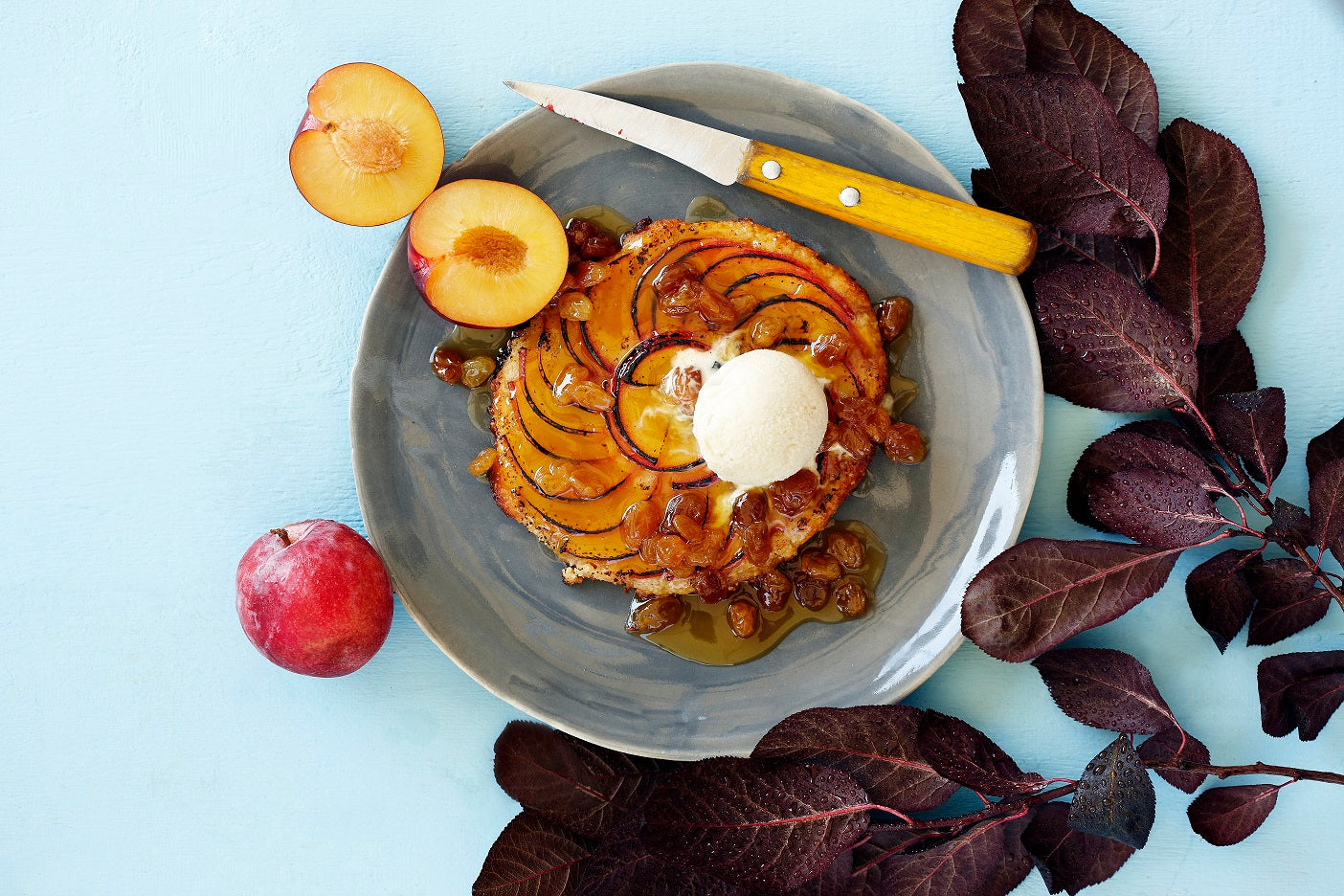 Plum and Frangipane tart recipe
Serves 10
 Serve with La Motte Straw Wine
PASTRY
Ingredients
¼ quantity flaky pastry (see recipe at the end*)
Method
Preheat the oven to 200 °C (400 °F)
Roll out the pastry on a floured surface to about 4 mm thick. Cut out 10 cm diameter rounds, place onto a buttered baking tray and bake until golden brown.
Place another backing tray on top of the rounds after they are removed from the oven and press down to flatten the pastry. Place a weight on top and return to the oven for a further 4 minutes. Leave to cool.
GLAZE
Ingredients
2 Tbsp (30 ml) brandy
2 Tbsp (30 ml) honey
2 Tbsp (30 ml) sugar
2 Tbsp (30 ml) orange juice
Method
Place all the ingredients in a saucepan and cook until it has a syrupy consistency. Keep warm.
FRANGIPANE
Ingredients
2 cups (500 ml) butter
2 cups (500 ml) sugar
8 eggs, whisked
2 Tbsp (30 ml) cake flour, sifted
2½ cups (625 ml) ground almonds
Method
Beat the butter and sugar together until light and airy. Add eggs, one by one, while mixing slowly. Add the flour and almonds and refrigerate for 2 hours before using.
TO ASSEMBLE
Ingredients
12 - 15 ripe plums, pitted, halved and sliced 1 mm thick
Icing sugar for dusting
Method
Preheat the oven 220 °C (425 °F)
Spread the frangipane on the pastry discs – about 3 mm thick. Arrange the overlapping slices of the plums on the frangipane, all the way around until the pastry is evenly covered.
Dust with the icing sugar and place in the oven for 8-12 minutes or until the frangipane puffs up and is light brown in colour.
Lightly brush the top with the glaze and serve with a dollop of cream or your favourite ice cream (honey ice cream works well).
*Flaky Pastry Recipe
Ingredients
2 cups (500 ml) cake flour
1 tsp (5 ml) salt
250 g cold butter
150 ml cold water
Method
Sift the flour and salt together in a mixing bowl.
Roughly break the butter into the flour and rub it in a little. There should still be bits of butter visible.
Add two-thirds of the water and form a rough dough. Add more water if needed.
Wrap the dough in plastic wrap and rest in the refrigerator for 1 hour.
Roll out the dough on a lightly floured surface, in one direction only and until it forms a rectangle about three times long as it is wide. Try and keep the edges of the pastry as straight as possible. The dough should still have long butter streaks visible.
Fold the top third of the pastry downwards and the bottom third over that. Turn the pastry 90 degrees and roll out to three times its length. Repeat the rolling process twice more, allowing the dough to rest in the refrigerator for 1 hour each time. Rest for 1 hour before using.