---
---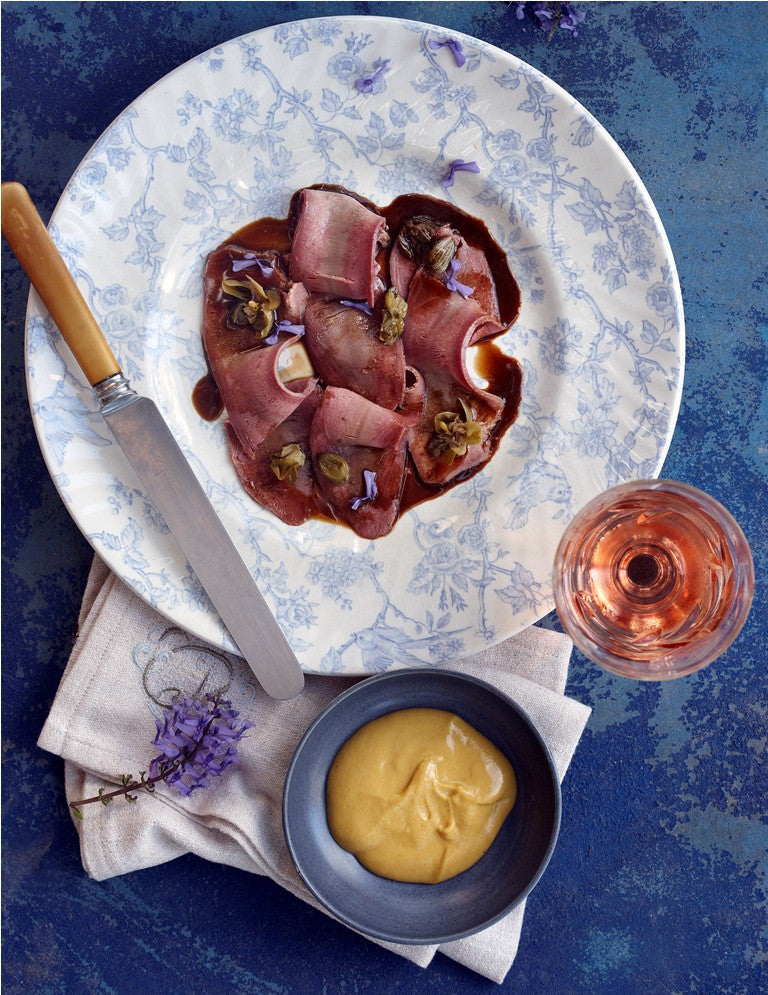 Ox tongue is a traditional favourite during the South African summer holidays and Festive season. Although often prepared with a mustard sauce, this Cape Winelands Cuisine recipe is for a sauce with anchovy and capers and makes out part of our series on Old Sauces of the Cape.
Fresh, salted smoked and sweet-and-sour ox tongue were favourite dishes enjoyed at the Cape. The ox tongue was usually stewed in red wine together with a little sugar and spices such as salt, pepper, cloves, nutmeg, ginger and cinnamon. Sometimes sour apples would be added to the stew. Today, sweet-and-sour ox tongue is still savoured by many, but it is cooked in water instead of wine. This recipe calls for a sweet- and-sour sauce to be served with the pickled tongue. The piquant capers and salty anchovies are the perfect taste companions for a rich dish such as tongue.
RECIPE FOR PICKLED TONGUE WITH ANCHOVY AND CAPER SAUCE
Page 133 of the Cape Winelands Cuisine Cookbook
TONGUE PICKLE
Ingredients
1 ox tongue
4 cups (1 litre) water
1 pkt (250 g) coarse sea salt
¹/3 cup (80 ml) brown sugar
2 sprigs fresh thyme
2 cloves garlic, sliced
1 Tbsp (15 ml) black peppercorns
1 Tbsp (15 ml) coriander seeds
2 bay leaves
Bouquet garni (bay leaf, parsley, thyme, onion, clove and celery)
Method
Clean the tongue, remove all the glands and rinse under cold running water.
Put the tongue into a large glass container. Place the rest of the ingredients in a large saucepan and boil for 1 minute. Pour the cooking liquid over the tongue, making sure the tongue is covered. Refrigerate for 24 hours.
Rinse the tongue and place back in the refrigerator until ready to cook. (The tongue can also be cold-smoked). Alternatively, you can buy pickled or ready-smoked tongue.
Place the tongue in a large saucepan, cover completely with water and add the bouquet garni.
Poach the tongue in the water for 3-4 hours, or until tender. Peel off the skin and let the tongue cool in the cooking liquid. Slice thinly and set aside.
ANCHOVY AND CAPER SAUCE
Ingredients
2 anchovy fillets
1 tsp (5 ml) capers
1 Tbsp (15 ml) vinegar
1 cup (250 ml) beef stock
1 Tbsp (15 ml) brown sugar or honey
Method
Mix all the ingredients together in a saucepan and bring to the boil. Add the slices of tongue, reduce the heat and simmer for 10 minutes.
Remove the tongue and arrange on a platter. Increase the heat and cook the sauce further until thick, reduced and syrupy.
Pour the sauce over the slices and leave for at least 1 hour for the flavours to marry. Serve cold.
These traditional sweet-and-sour flavours can be quite challenging when it comes to suggesting a wine accompaniment. Cellarmaster Edmund Terblanche suggests the crisp and refreshing 2014 Pierneef Sauvignon Blanc. It is quite full-bodied for a Sauvignon Blanc with a definite minerality and will be a beautiful complement to this dish.