---
---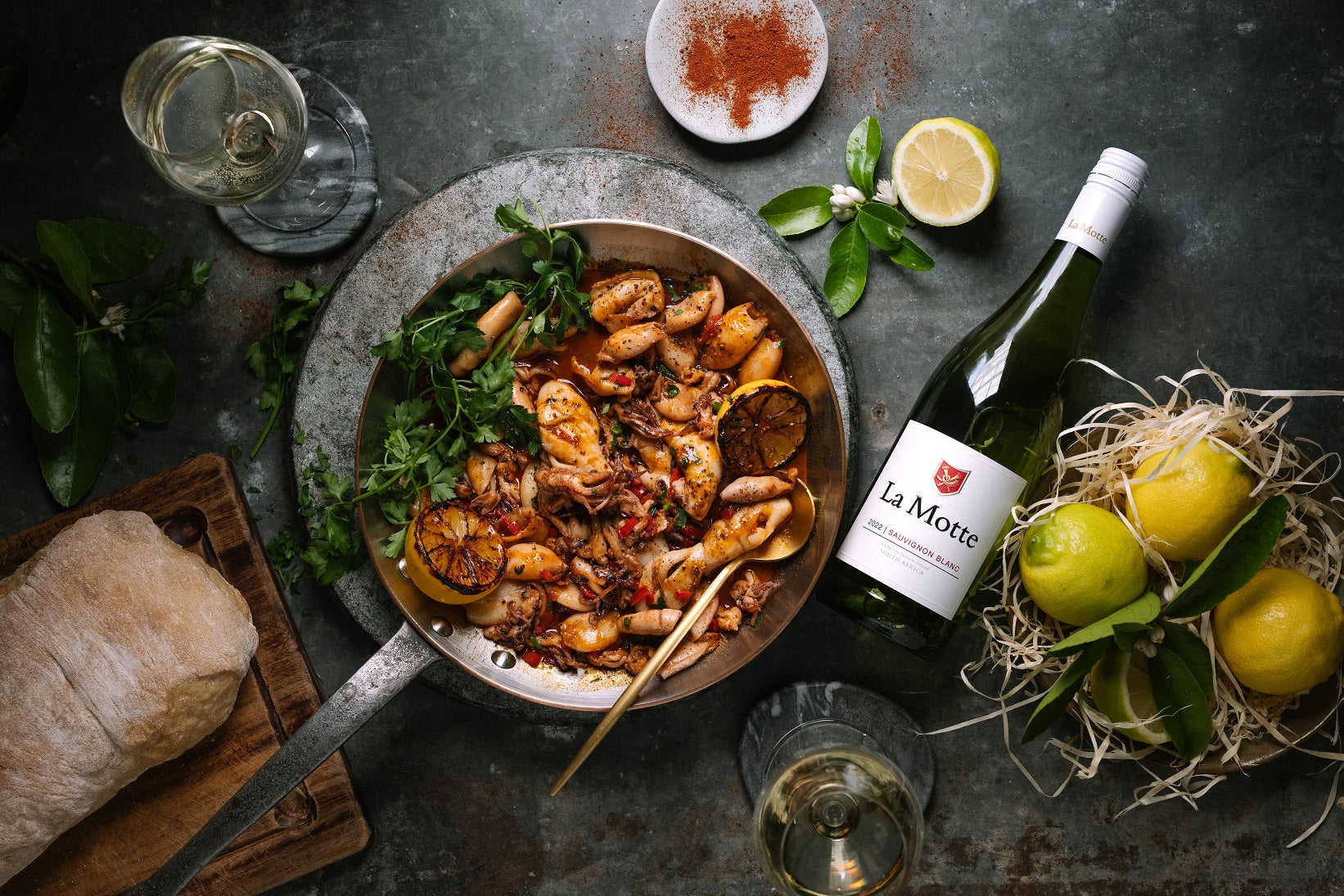 Recipe: TheFoodFox
"Patagonian calamari is not expensive and makes a very popular starter or addition to your mezze spread. The key to cooking them successfully is a searing hot pan, doing batches so you don't crowd it. The pan sauce is totally addictive, so be sure to serve fresh bread on the side to mop it up. Grilled lemon wedges add a fantastic caramelised zesty flavour to it all. Note: You can leave the tubes whole, or slice them open (before cooking) and scoring the surface in a diamond pattern for a sophisticated, different look."
Ingredients: (serves 4-6 as a starter)
1 kg Patagonian calamari/squid tubes & tentacles

30 ml olive oil

½ red pepper, finely diced

125 g (½ cup) butter, cut into chunks

10-15 ml (2-3 teaspoons) smoked paprika

juice of 1-2 lemons

salt & pepper, to taste

a handful Italian parsley, chopped

bread (ciabatta or similar), for serving
Method:
If your squid was frozen, defrost it completely and rinse under running water. Drain the water well and use kitchen paper to absorb any excess liquid - you want the squid as dry as possible before frying.
Heat an iron skillet or wok to smoking point, then add the oil and about 1 cup of squid (at a time, if you're working in batches) and some of the peppers.
Fry, stirring, for about 1-2 minutes or until the squid is just cooked and lightly charred here and there. It will release some liquid - pour it off carefully before adding the next batch of squid.
Transfer the cooked squid to a bowl on the side, and continue until you've grilled all of the squid and peppers.
Turn off the heat and immediately add the butter to the still hot pan, allowing it to melt in the residual heat.
Add the smoked paprika, lemon juice, and season generously with salt & pepper.
When the butter is melted, add the cooked calamari back to the pan and stir to coat with the buttery sauce on all sides.
Taste the squid and adjust with more salt or lemon juice if necessary.
Serve at once, sprinkled with chopped parsley and some lemon wedges on the side (grilled lemon halves are also fantastic), with fresh bread to mop up the sauce and generous glasses of well-chilled 2022 La Motte Sauvignon Blanc.