---
---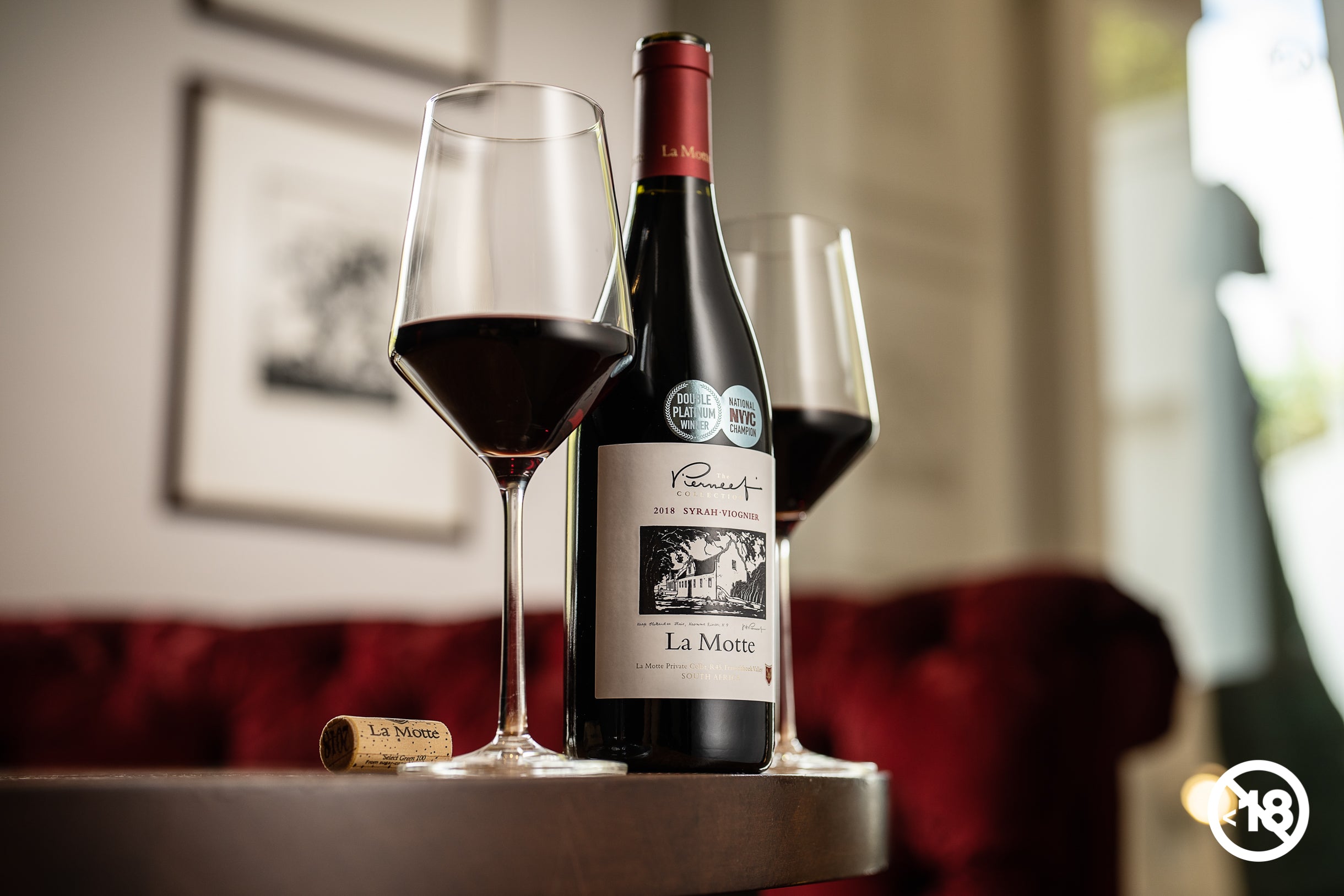 Asked about the difference between the two recent 2018 Syrah-releases from La Motte, Cellarmaster Edmund Terblanche says: "I believe wine is made in the vineyard and the Syrah for these two wines come from such different terroir, that there shouldn't be much similarity to the wines, except that they are a delight to drink."
While the La Motte Syrah is classified as wine of origin Franschhoek, the Pierneef originates from some of the most Southerly vineyards in the country, enjoying the cool influence of the Atlantic Ocean.
The 2018 La Motte Syrah is made from grapes grown exclusively on the Franschhoek estate. The vineyards are between 10 and 30 years old and are situated between 200 and 300 metres above sea level, growing in varying soil profiles – from heavier texture sandstone and granite along the mountain slopes to sandy, well-drained soils in the valley.
The grapes were picked ripe (but firm) to promote elegance. To ensure soft extraction, they are cooled overnight before fermentation at between 24 and 28 degrees Celsius. Tanks were pumped over twice daily to ensure good aeration and most tanks were pressed before fermentation was completed. A 14-month maturation period in 300-litre French oak barrels, of which only 30% were new, further ensures the trusted, classic style of the                              La Motte Syrah. An interesting 15% Durif was added to the ultimate blend. This component contributes plum flavours while enhancing colour, texture and extraction. The wine was bottled in October 2019 and 17 000 cases (6 x 750), and 500 magnums were produced.
Again, recognised for its consistency and as one of South Africa's Top 100 Wines by the National Wine Challenge, the latest vintage release of La Motte's acclaimed Pierneef Syrah Viognier has been eagerly awaited.
The 2018 Pierneef Syrah Viognier is a blend of 98% Syrah and 2% Viognier. The Syrah component is from Elim (50%), Walker Bay (30%) and Napier (20%), while the Viognier (2%) originates from Franschhoek, chosen for its late ripening that enables co-fermentation with the Syrah.
The Elim vineyards grow in duplex soils with a high content of ferrocrete (coffee stone), the Walker Bay vineyards in shallow shale and in Napier the soils are sandy and from shale origin. The Franschhoek Viognier grows in deep, sandy, decomposed sandstone and granite.
Because of a dry growing season, the 2018 vintage was 15% smaller than the previous year. Despite an exceptional cold winter that delayed budding and resulted in the harvest starting two weeks later than average, the conditions were conducive to healthy grapes, good concentration and exceptional flavours.
The Syrah grapes from the various vineyards were picked at different times, but always together with a portion of Viognier. Grapes were hand-sorted and then fermented without stems. The wine was matured for 18 months in 300-litre French oak barrels of which 50% were new. Bottling took place in November 2019. 16 000 cases (6 x 750 ml) and 500 magnums were bottled.
What does their different terroir contribute to each of these wines?
Franschhoek Syrah has a natural fruitiness and the 2018 La Motte Syrah shows beautiful red berries and mulberry flavours, complemented by the Durif-derived plum flavours. A certain well-shaded vineyard yields fruit that contributes distinct black pepper while considered French oak maturation enhances the wine with well-integrated oak flavours and a certain masculine complexity that includes notes of spice, liquorice and coriander seeds. The palate has a seductive creamy texture.
Prominent mulberry fruit and pepper spice are also what you get from the 2018 Pierneef Syrah Viognier, but here the feel of the wine is less meaty and rather fruity and floral. While the 2% Viognier contributes a delicate perfume to the wine, it further supports and uplifts the fruitiness in the Syrah. The Elim grapes are from some of the most Southerly vineyards in Africa and ensure a wonderful intensity in colour and aroma. Well-integrated oak contributes complexity, beautifully balanced by the lightness of the Viognier's perfume. The palate is silky and concludes with finesse and freshness.
Both these wines are exceptionally versatile when it comes to being food partners. Complementing an array of red meats, they also make for a beautiful combination with aromatic spices and reduced fruit flavours.