---
---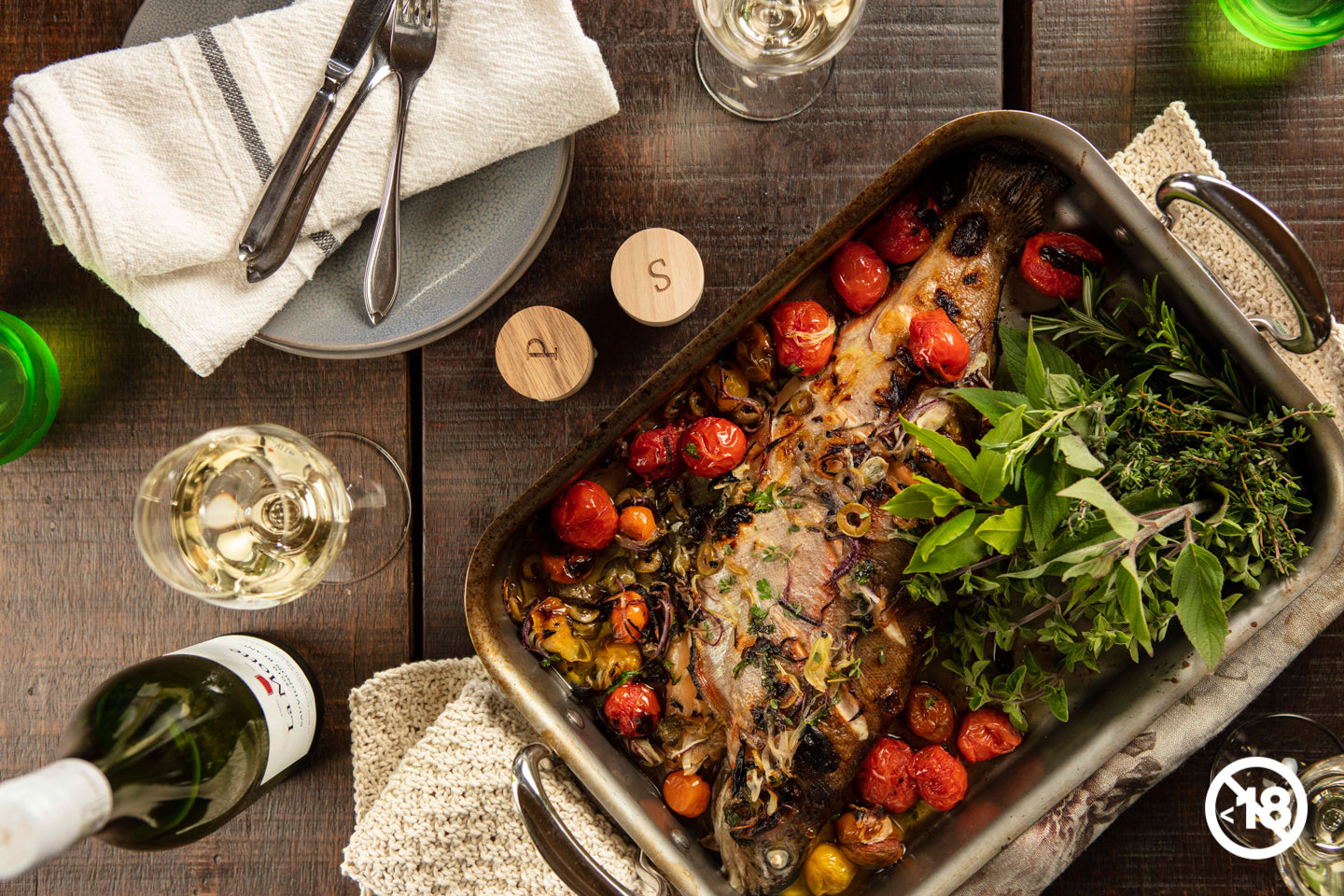 "I was born in Walvis Bay, Namibia, and one of my earliest food memories was walking to the local fish shop, down a dirt road to buy Smoked Snoek - you could smell it well before you were even close to the fishmonger", says Chef Eric Bulpitt. "My dad was obsessed with fishing and would often take me along. Its these memories spend around the ocean that contribute to my love for fish, it brings a smile to my heart when I get to break down and prepare seafood. Being in Franschhoek the natural option would be local trout farmed just up the road of course, and what is better than trout cooked over the embers with sweet tomato and good olive oil."
Lazy lunches of grilled fish and vegetables are made for well-chilled glasses of Sauvignon Blanc. Cellarmaster Edmund Terblanche recommends the 2021 La Motte Sauvignon Blanc with Chef Eric's Rainbow Trout. It complements the acidity of the olives and tomatoes and has enough body for the fattiness of the fish.
Whole-baked Rainbow Trout with tomato and olives
Ingredients
1 kg Franschhoek (or Rainbow) trout
200 ml extra virgin olive oil
2 medium red onions, finely sliced
150 ml white wine
150 g pitted green olives
1 head garlic, finely sliced
1 punnet rosa tomatoes (+/- 250g)
1 hand full parsley
50 g capers, rinsed
1 lemon, rind and juice
2 red chillis, cut lengthways into strips
Method
Preheat oven to 220 degrees Celsius.
Scale and gut the trout, slant two cuts into the flesh on either side to allow even cooking and to ensure flavour penetration.
Place all your ingredients in a bowl, dress with olive oil and season.
Place fish in an oven tray or on a ceramic plate. Spoon the other ingredients around it.
Bake in a preheated oven for 20 to 25 minutes.
Serve with 2021 La Motte Sauvignon Blanc.