---
---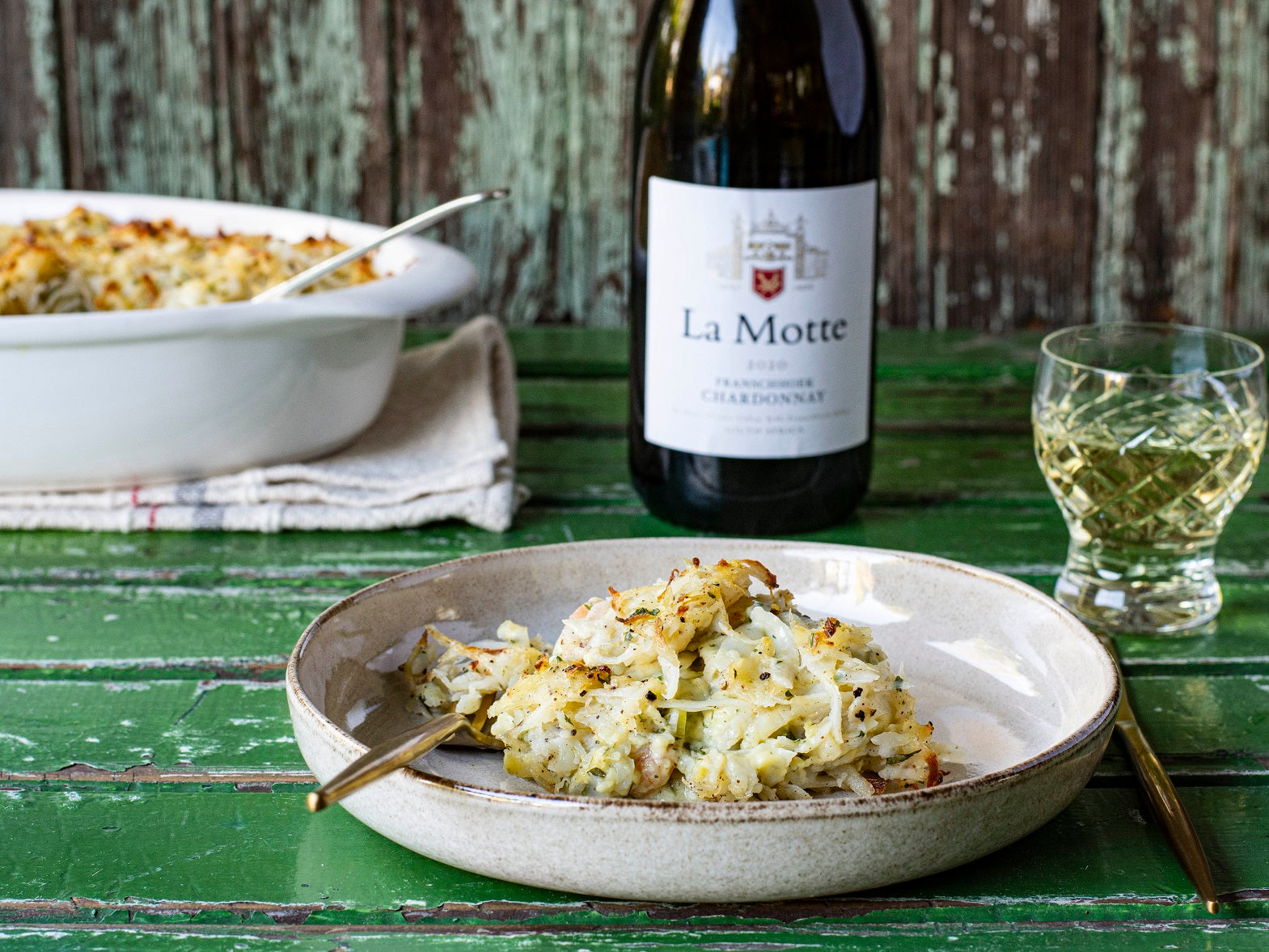 Recipe for Luxury Fish Pie with Caper Rösti Topping 
Recipe: Sophia Lindop
This beautiful combination of seafood in a cream and herb sauce topped with a golden-brown crust of potato with delightfully tart and tangy capers is just a dream. Especially when served with the elegant complexity of the 2020 La Motte Chardonnay.
Serves 6 - 8
Rösti topping
4 large potatoes
1 tsp small capers, chopped
Salt and freshly ground black pepper to taste
1 tsp chopped flat leaf parsley
40 g butter, melted
¼ tsp grated nutmeg
Fish jus
400 ml good quality fish stock
100 ml La Motte Chardonnay
6 black peppercorns
1 bay leaf
½ onion, sliced
Sauce
45 g butter
90 g cake flour
100 ml milk
200 ml fresh cream
2 egg yolks, lightly beaten
60 g crème fraîche
10 g finely chopped fresh parsley
15 g chopped fresh dill
4 spring onions, finely sliced
2 small gherkins, finely chopped
Salt and freshly ground black pepper to taste
1 thumbnail-size piece of lemongrass, finely grated
Pie
300 g raw prawns, shelled and deveined, then fried in 20g butter
400 g hake, cut into chunks
300 g smoked haddock fillets, skinned and cut into chunks
400 g Norwegian salmon fillet, skinned and deboned, and cut into chunks
 
Preheat the oven to 180 °C.
Rösti topping
Steam the potatoes with their skins on for 15 to 20 minutes. Set aside until cool enough to handle.
When the potatoes have cooled sufficiently, peel them and, using the coarse side of a grater, grate into a bowl. Add the capers, seasoning, nutmeg, parsley and melted butter. Using two forks, gently toss everything with the butter.
Fish jus
Place all the fish jus ingredients in a saucepan and bring to the boil over a medium-high heat. Reduce the heat and simmer until the liquid has reduced to about 1½ C. Strain and set aside.
Sauce
Melt the butter in a saucepan and stir in the flour. Cook for 1 minute. Gradually add the fish jus and cook until slightly thickened – about 3 minutes. Add the milk and cream, stir through and cook for a further 5 minutes. Remove from the heat and allow to cool. Stir in the egg yolks, crème fraîche, parsley, dill, spring onions, lemongrass and gherkins. Season with salt and black pepper.
To assemble
Place the hake, haddock and salmon in a greased casserole dish, layer the prawns on top of the fish and pour the sauce over. Top with the potatoes and spread out with a fork in an even layer.
Bake in the oven until the top is golden brown and the sauce is bubbling beneath the crust – 30 to 40 minutes.
Serve with a green salad or fresh peas.