---
---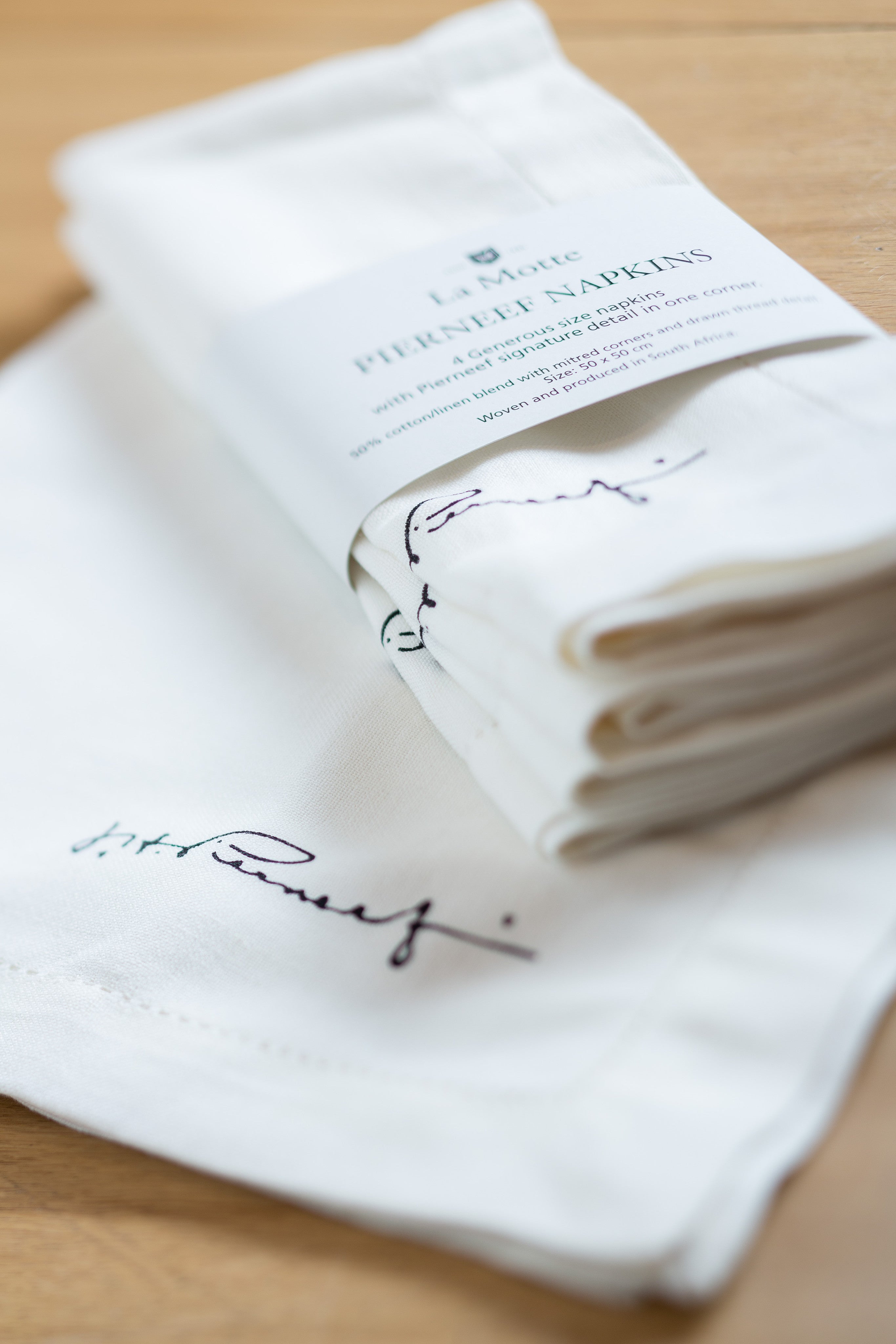 Linen is one of the oldest textiles in the world. Made from the fibres of the flax plant, Linum usitatissimum, the manufacturing of linen is a labour-intensive process. The result is, however, a versatile and valuable product which the ancient Egyptians even used as currency!
The Farm Shop at La Motte now offers a bigger and more beautiful selection of linen made especially for the estate.
The romantic story of the Blushing Bride, the fact that it has been saved from the brink of extinction and, of course, its tender pale pink beauty, all contribute to it being a very special flower. For the short flowering season in winter, these pretty flowers from the mountain on La Motte are a popular gift from the Farm Shop. Now, we can celebrate them all year round with this beautiful and detailed design on an exceptional quality linen table cloth. This medium-sized table cloth (2 m x 1.65 m) from 100% European linen, is made locally and especially for La Motte. R845
Hand-embroidered with a monogram, these generous linen placemats or tray cloths make an elegant statement. Made from 100% European linen and with mitred corners, they are spun and produced in South Africa. R195
Nothing brings a sense of home like the smell of freshly-baked bread. Make sure your bread stays fresh by wrapping it in this cotton bread cloth with its beautiful design, made especially for La Motte. R136
Winter is almost here and soon we will spend more time in front of the stove preparing hearty, warming dishes. Keep your hands from burning with these distinctive linen and hand-crocheted cotton oven gloves. Made especially for La Motte, the design features words such as lily, love, luxury, laughter, lag, leef… that are printed by hand. R225
Just the thing for a modern-day kitchen with a traditional feel. The Le Potager Tea Towel is generous in size and made in Italy from 100% European linen. Specially designed for La Motte, the beautiful motif depicts green vegetables such as cauliflower, broccoli and peas. R195
Featured image: Pierneef napkins, Pierneef signature detail in corner. Cotton & linen blend.