---
---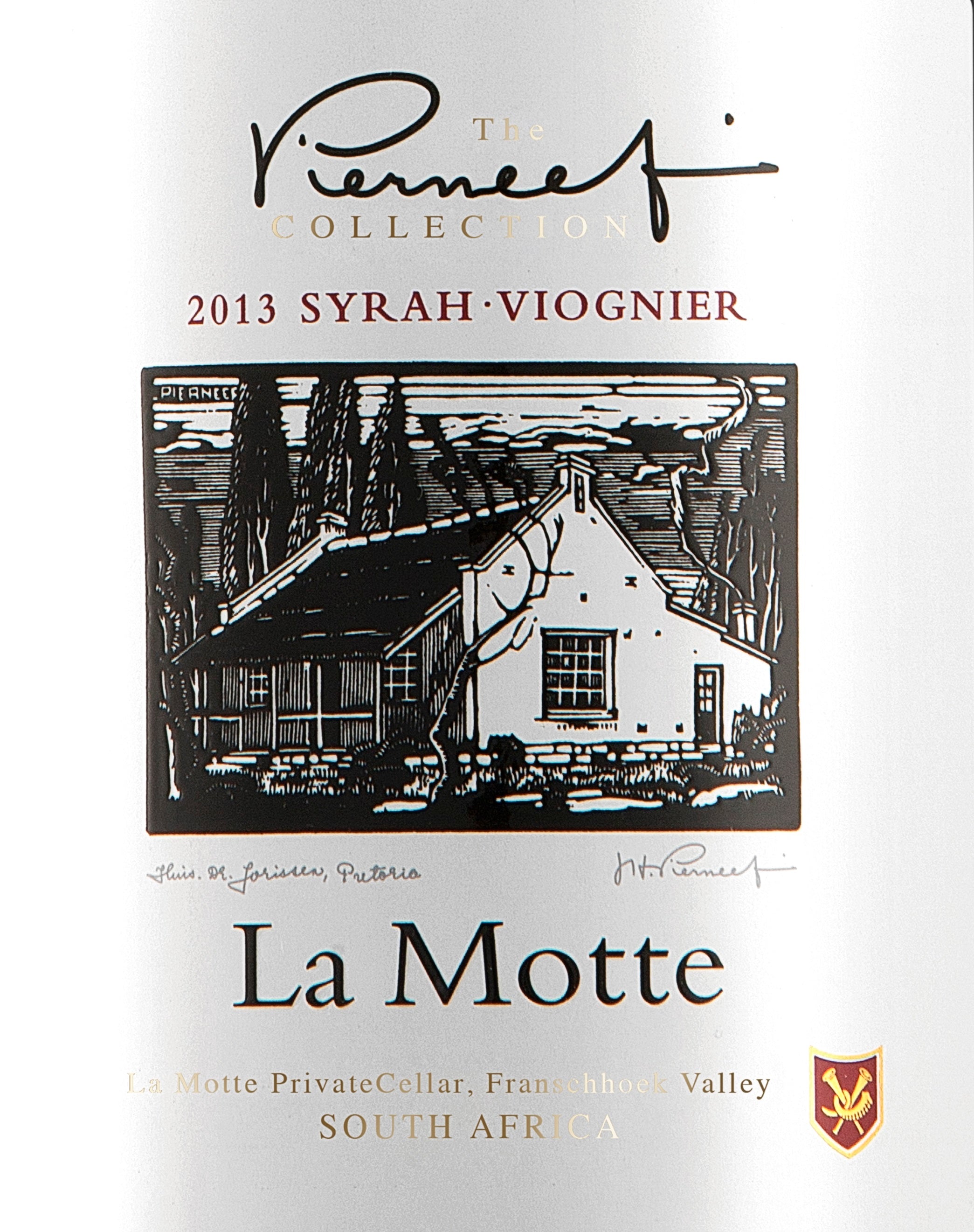 La Motte Wine Estate in the Franschhoek Valley is celebrating the international acknowledgement of its premium Pierneef Collection, reaffirming the estate's status as a producer of fine wines and the success of introducing cool climate styles. The limited production Pierneef Collection consists of a varietal wine and an innovative blend for which grapes are obtained from site-specific vineyards grown predominantly in the cooler South Coast region.
Following on the exceptional performance of prior vintages, the current 2013 Pierneef Syrah Viognier has not only been listed as one of the Top 100 Wines in South Africa, but has received coveted gold medals in both the Concours International de Lyon competition as well as the Old Mutual Trophy Wine show. (See complete awards list)
A blend of 90% Shiraz from the Walker Bay (65%) and Elim (35%) areas as well as 10% Viognier from Franschhoek, the 2013 vintage of this Rhône-style red blend offers good colour, tight, concentrated tannins and a distinct spiciness. The result is a wine full of flavour and complexity, but with a certain elegance and finesse typical of a cool climate South African Syrah.
Syrah grapes from the various vineyards were harvested at different times, but always with some Viognier. Grapes were hand-sorted and fermented without stems. Before blending, the wine was matured in 300-litre French oak barrels (70% new) for 14 months, then returned to the barrels for another 4 months. 12 000 cartons (6 x 750 ml) were bottled.
Its companion, the 2014 Pierneef Sauvignon Blanc has also confirmed its international standing with a gold medal at the 2015 Mundus Vini competition recognising the wine's exceptional structure and maturation potential. (See complete awards list)
A true reflection of its cool climate terroir, the grapes for this wine originate from South Africa's most southerly vineyards in the Elgin, Bot River, Elim and Napier areas – with the recent classification, Origin Cape South Coast. Upfront citrus and granadilla flavours are balanced with hints of green pepper. Complex and elegant with a mineral finish, the 2014 Pierneef Sauvignon Blanc is not only a refreshing aperitif, but also an exceptional partner to seafood and those often difficult pairings of Chinese and Thai food.
Grapes were harvested between 20 and 22 degrees Balling with fermentation at approximately 14 degrees Celsius. After being removed from the heavier lees, the wine spent five months on the fine lees before being blended. The blend consists of 90% Sauvignon Blanc and 10% Semillon. 10 000 x 6 were bottled.
Notes:
Analysis of the 2015 Pierneef Sauvignon Blanc
Alcohol: 12.77% Vol
Residual sugar: 2.3 g/l
Total acidity: 6.1 g/l
pH: 3.44
2015 Pierneef Sauvignon Blanc is available at the La Motte Tasting Room at R120 per bottle.
Analysis of the 2013 Pierneef Syrah Viognier
Alcohol: 13.85%
Residual sugar: 2.8 g/l
Total acidity: 5.6 g/l
pH: 3.52
2013 La Pierneef Syrah Viognier is available at the La Motte tasting room at R230 per bottle.
Art on Wine
A tribute to South African artist Jacob Hendrik Pierneef (1886 – 1957), famous for his mastership in portraying the unadorned beauty of the South African landscape and architecture, each new release in the Pierneef range reflects a different piece of Pierneef art on its label. Featuring linocut artworks by Pierneef on the front label, the association with the artistry of wine-making as well as the estate's longstanding involvement with art and its passion for the preservation of the country's art heritage, is strong. Each artwork on the label is accompanied by its original title and Pierneef's signature and each vintage sees the release of six different linocut artworks – essentially six different labels. This means that each six-bottle presentation of the Pierneef Collection will offer a collection of different artworks selected for that specific vintage.
The Pierneef linocut artworks used in the new design elements are from a collection bought by the late Dr. Anton Rupert for his daughter and owner of La Motte, Hanneli Rupert-Koegelenberg. One of only ten sets of the Pierneef linocuts printed, the collection exhibited in all the visitors' areas on La Motte consists of 128 pieces with the principle themes: South African landscapes (including Cape Winelands landscapes and Cape Dutch Architecture) and tree studies.
The initial permission for the use of the Pierneef art on the labels of La Motte's premium wine range resulted in a friendship between Pierneef's daughter, Marita Bailey, based in the UK, and Hanneli Rupert-Koegelenberg and her husband, Hein Koegelenberg, CEO of La Motte. It was also this friendship that initiated the return of JH Pierneef's treasured private collection to South Africa and the La Motte Museum.