---
---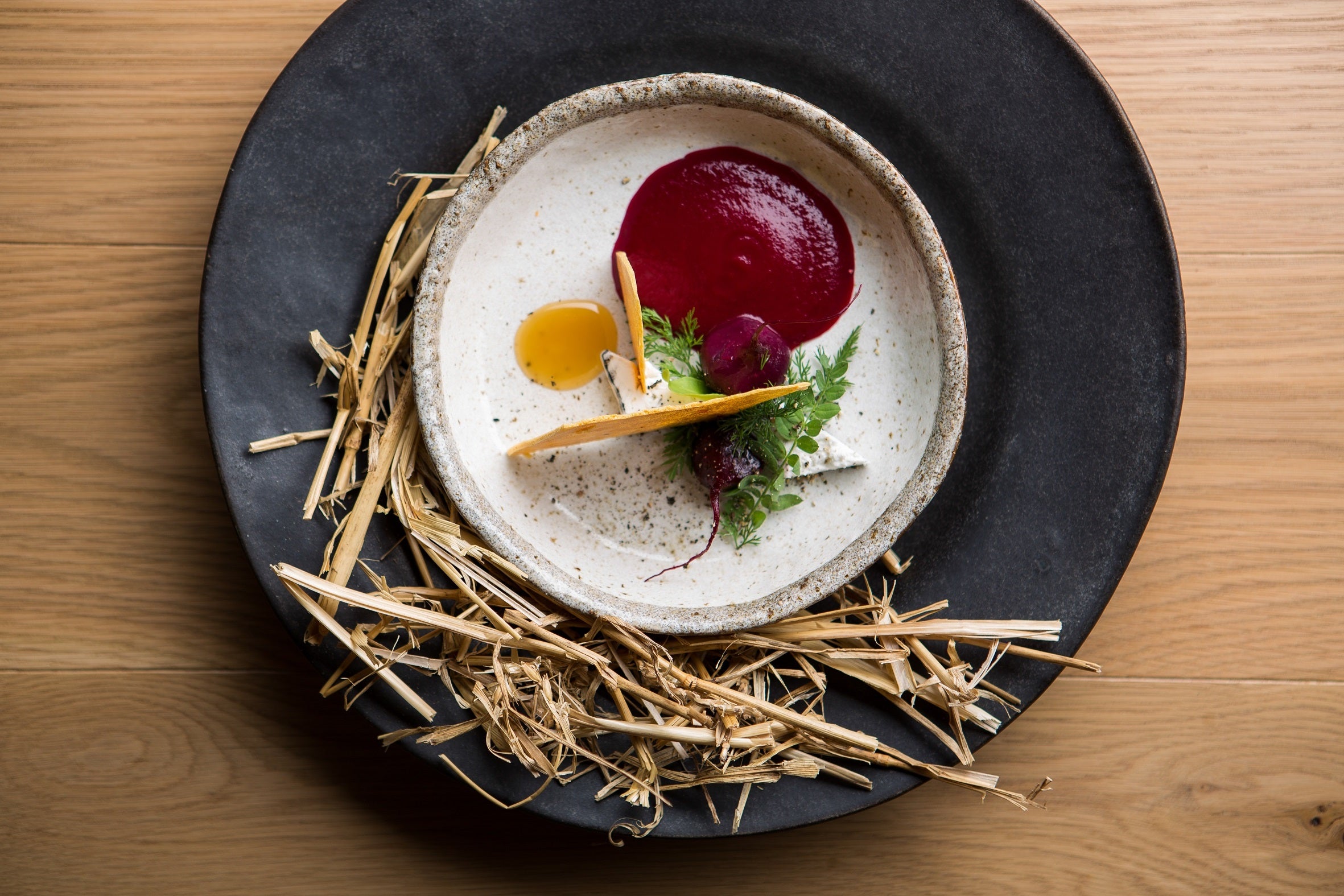 This recipe for a hay-roasted beetroot soup with fermented black peppered honeycomb might might be just the challenge your looking for when wanting to impress guests around the dinner table. It serves six as a starter portion.
For the soup:
Pre-heat oven to 200⁰C
900 g Red beets, trimmed and washed
Maldon salt
Olive oil
Clean hay
Place clean hay in roasting tray, place a roasting rack over and put the beetroot onto the roasting rack.
Season with Maldon salt, drizzle with good quality olive oil and cover with foil, roast for plus minus 1 hour until beetroot is cooked through and a knife passes through easily.
Peel and dice
1 Cup Sundried tomatoes, finely chopped 
1 Medium white onion, finely diced 
1 Red chili, deseeded and finely sliced 
4 Tblsp Honey (fermented honey)
1 tsp Caraway seed
1 tsp Fennel seed
1 tsp Freshly ground black pepper
1 tsp Smoked paprika
1 L Standard Vegetable stock
100 ml Sherry vinegar
50 ml Soy sauce
Grapeseed oil or olive oil for frying
Fry onion, caraway seed, fennel seed, black pepper, chili and paprika to release flavours.
Add Sundried tomatoes, and diced beetroot.
Add honey and caramelize.
Add vinegar and soy sauce and then top up with vegetable stock.
Leave to simmer for 20 min.
Season to taste with Maldon salt.
Blend until very smooth and pass through a fine sieve.
For the fermented black peppered honeycomb:
75 g Honey
140 g Glucose
400 g Castor sugar
5 Tblsp Water
20 g Bicarbonate of Soda
2 g ground Black pepper
Combine honey, glucose, castor sugar and water, bring to a caramel (crack stage, 154⁰C)
Immediately add bicarbonate of soda and black pepper, mixing through and pouring onto grease proof paper, place another piece of grease proof paper over the top and roll out thinly with rolling pin working very quickly to form a thin sheet.
Once cooled brake into uneven shards to be served with the soup.
(Keep in an airtight container with silica gel crystals to prevent from getting sticky)
For the fermented Honey:
1 cup raw honey
2 Tblsp water
Stir together honey and water in a small glass jar, cover with a piece of muslin cloth and keep in an ambient temperature between 16⁰C - 20⁰C for 2 weeks.
Stir contents once a day.
It will start to sour, after 2 weeks it can be capped and kept in the refrigerator.
To serve:
The soup can be served at room temperature or chilled, with shards of the black pepper honeycomb crisps, with good quality goat's cheese, creamed and spooned on top, drizzled with some of the fermented honey and fresh fennel tops and flowers if available.