---
---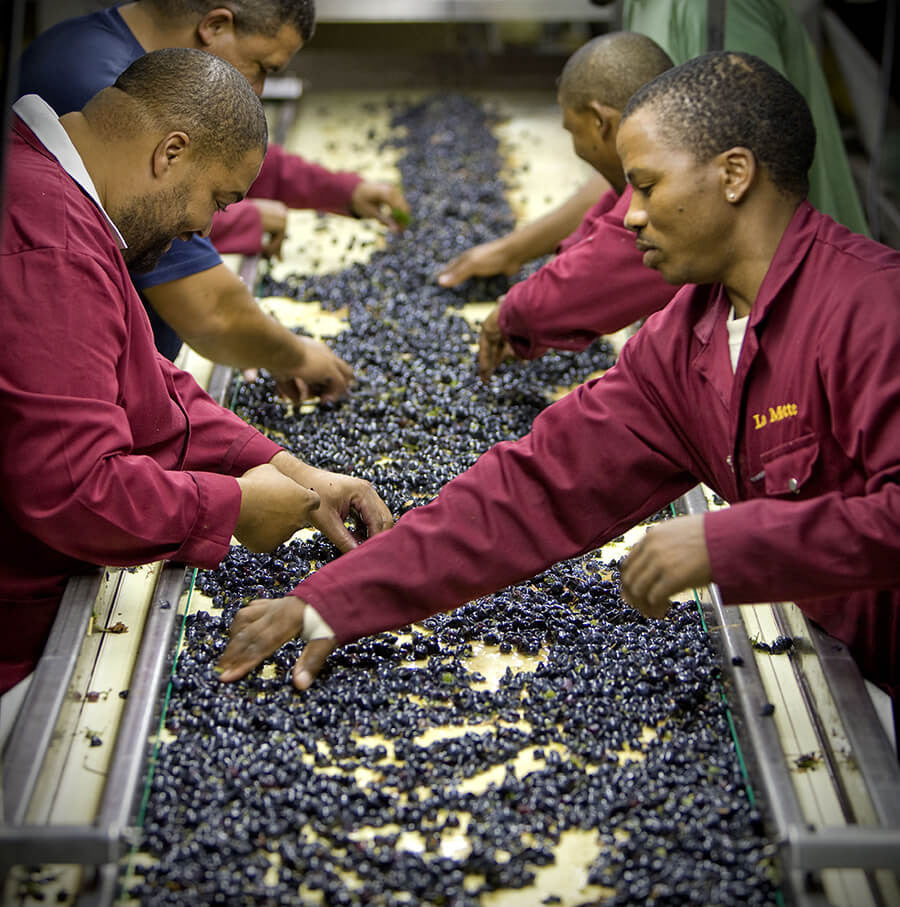 For a winemaker, harvest time is all about the quality of the grapes and the smooth sailing of cellar processes. Or is it?
"Of course, I will not have a job if the grapes and the cellar are not priority", says La Motte Cellarmaster Edmund Terblanche. "But without being too sentimental about it, I also believe harvest time is about the people and the traditions of the winelands."
The Team
La Motte enjoys adding some international flavour to its full-time farm and cellar teams for the duration of harvest. This year, a young producer from Burgundy and a cellar worker from Cairan in the Southern Rhone have joined the team. "I think we will have to brush up on our French, because their English is not going anywhere", laughs Edmund.
Also joining the team is a Franschhoek Valley local from Dennegeur, the Rupert family farms housing initiative.
"I am privileged to work with a skilled and enthusiastic team and for me it is important to keep the enthusiasm and energy going. This is our busiest time of the year, we have many challenges and long hours and although the quality of the grapes have long been determined in the vineyards, we now have a short opportunity to ensure we make the most of the vintage. The team understands this and I really cannot complain about dedication! Having said that, our team of contract workers is smaller this year as our Bot River grapes are now harvested by the latest technology that sort and destalk in the vineyards already. It is quite something!"
La Motte's annual Blessing of the Harvest ceremony and "Oes-af" party also involve the rest of the team. "In the end, harvest time puts extra pressure on everyone – from IT to Accounts to the Pastry kitchen, who can't keep up with the orders for mosbolletjies!"
Vintage Volumes
The harvest forecast for processing at La Motte is 1770 tons and they are about half way there. 660 tons of the estate's popular aperitif-style Sauvignon Blanc has made its way into the cellar among smaller volumes of Pinot Noir, Chardonnay, Malbec, Shiraz, Temperanillo and Merlot. 3 tons of fragrant Viognier destined for straw wine have also been harvested and are at the moment patiently drying out on their straw beds.
Quality and Observations
Although drought and water restrictions are very topical, it is not always a negative thing in the vineyard. (Read more). Vines prefer a cold and wet winter and are quite content with dry summers. Mild summer temperatures are however preferred for optimal ripening. "Vines are drought resistant and without any physical or chemical barriers, roots can extend up to 6 metres deep on a quest for soil water."
The 2017 season has been dry and windy, but not exceptionally hot and January was definitely cooler than in 2016. The drought and wind did however result in a potentially lighter harvest. "Bunches have less moisture and weigh less – juice retention per ton is also less than the average. This can however be beneficial for quality as the concentration is better and analyses confirm that acids are higher and pH's lower – a luxury in the warm South African climate. The cooler conditions also promise more flavour and better colouring and although it is early to talk about flavours, we are very pleased with the intensity of colour on the first red grapes."
In the absence of quality concerns and with volumes being down, it seems harvest time should be a breeze this year. "There is always some kind of challenge! The 2017 season is playing us in terms of timing and it seems that the traditional late varieties will be riper earlier than expected. Cellar teams are under pressure. Luckily our seasoned and spirited team does not easily back down from a challenge – whether it is loads of grapes or their French vocabulary!"