---
---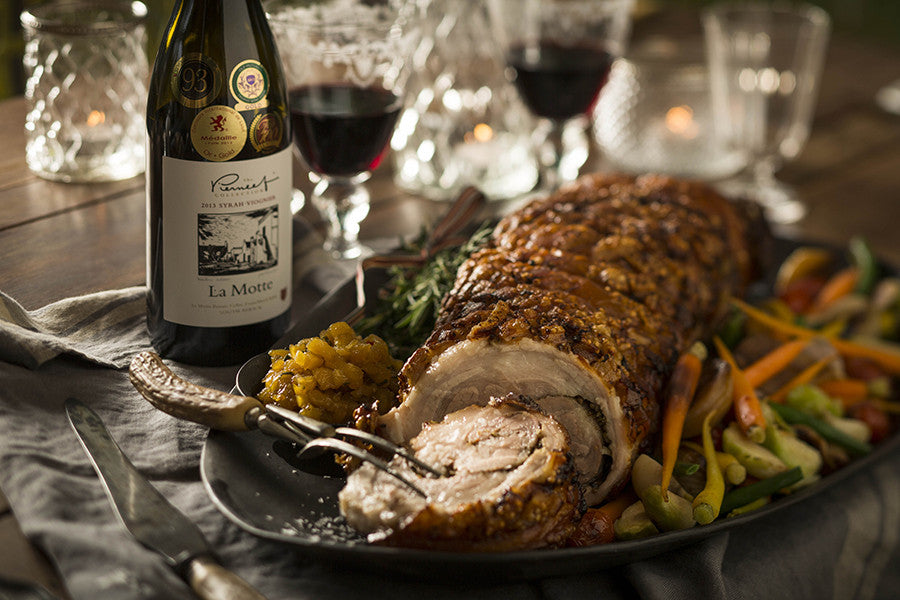 Pork is a typically traditional Christmas dish and, although serving a whole suckling pig can look very festive, it is hardly something one would attempt at home. Pork is also very versatile and can be smoked and served hot or cold. try our recipe for pork belly – with its crisp and golden crackling, it will be the highlight of your festive lunch or dinner. Serve with seasonal vegetables and her delicious spiced pineapple and sage relish.
Recipe: Roast pork belly roll, spiced pineapple and sage relish
Serves 6 – 8
Ingredients
1 boned pork belly, 2 kg
1 bunch thyme, picked and chopped
1 bunch rosemary, picked and chopped
2 tblsp coarse salt
3 garlic cloves, peeled and finely chopped
10 g crushed black pepper
60 g golden brown sugar
20 g whole coriander seeds, crushed
Olive oil
Method
Preheat oven to 230 ˚C.
In a mixing bowl, combine the chopped herbs, salt, sugar and spices.
Place the pork belly, skin side down, on a work surface (if the belly is very thick, slice through the thickest part to butterfly it and make it easier to roll).
Using an offset spatula, spread the spice mixture over the belly, lift the side closest to you and roll the belly up and away from you as tightly as possible.
Using butcher's twine, tightly tie the cylinder in 5 cm intervals.
Place the rolled up belly on top of an oven tray with wire rack.
Drizzle with olive oil and season with some more coarse salt, transfer to oven and cook for 45 min.
Reduce the oven heat to 135 ˚C and continue cooking until the skin is deeply browned and crisped.
Remove from the oven and slice to check if meat is tender and cooked through.
Serve warm with spiced pineapple and sage relish and crisp salad or roast vegetables.
Spiced pineapple and sage relish
Serves 6 – 8
Ingredients
3 medium-sized pineapples, peeled, cored and diced
1 red chilli, halved, seeded and chopped finely
1 star anise
2 cinnamon sticks
1 white onion, peeled and finely chopped
Small bunch of fresh sage, chopped
100 ml white wine vinegar
200 g golden brown sugar
20 g fresh ginger, peeled and chopped
½ tsp salt
Method
In a heavy-base saucepan heat oil and lightly fry onion, spices, chilli, ginger and sage.
Add sugar to caramelise, stir in white wine vinegar and salt and pineapple pieces, lower heat and simmer until thick and shiny.
Serve with pork belly roll.
Place in an airtight container in the fridge (the relish will keep up to two weeks).
Chef's tip:
Prepare the pork two days in advance in order for the sugar and salt to cure the meat. Preheat the oven to 230 ˚C. Place the pork in the very hot oven for 25 to 30 minutes. Then turn down the heat to 135 ˚C for the remainder of the cooking time, as per the recipe. The result: the puffiest and crispest of crackling!
Wine recommendation: The beauty of pork is that it lends itself exceptionally well to partnering with both white and red wine. Enjoy the elegant 2015 La Motte Chardonnay with its beautifully integrated fruit flavours and subtle oak if you prefer white wine, or open a bottle of the award-winning 2014 Pierneef Syrah Viognier. This classic Rhône-style blend is exceptional with the caramelised crackling and juicy meat.