---
---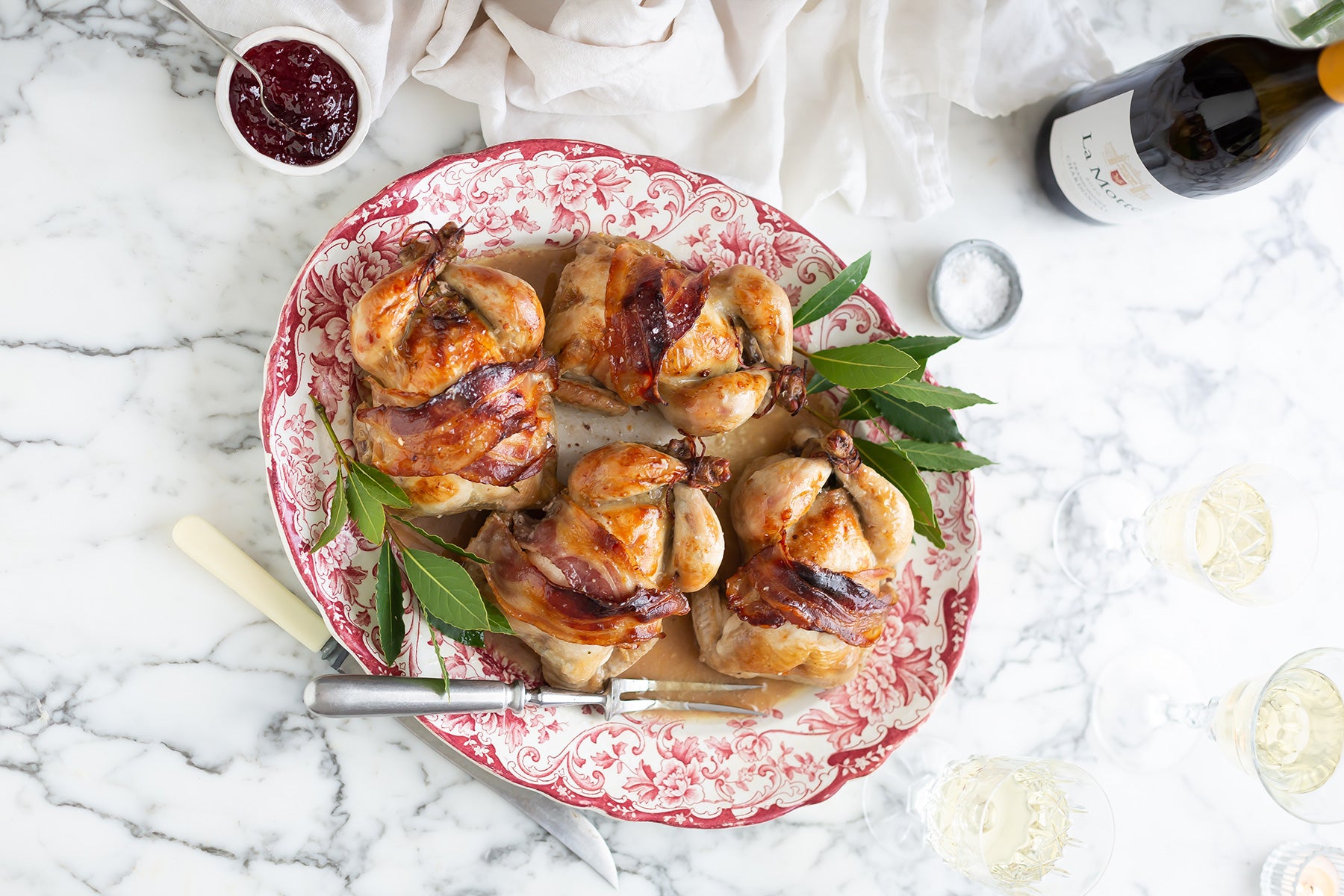 Roast baby chickens with pork, pistachio & cranberry stuffing
Chicken:
4 baby free-range chickens/ petit poussin
250ml strong chicken stock
100ml dry white wine
1 heaped teaspoon Dijon mustard
3 bay leaves
8 – 12 rashers of streaky bacon to create a lattice top (optional)
Stuffing:
Splash of olive oil or a knob of butter
½ white onion very finely chopped
6 – 8 sage leaves, finely chopped
4 pork sausages, removed from their casings
1/2 cup breadcrumbs or panko crumbs
¼ cup shelled pistachios, roughly chopped
A small handful of parsley leaves, finely chopped
1 ½ Tbsp cranberry jelly
Salt and pepper
INSTRUCTIONS
Preheat the oven to 180C / 350 F.
Heat the olive oil or butter in a non-stick frying pan and fry the onion until softened but not browned, about 4 minutes. Add the sage and continue to cook for a further minute. Allow to cool slightly.
Add the onion mixture to a bowl with the sausage meat, breadcrumbs, pistachios, chopped parsley, cranberry jelly, and seasonings and mix well. This is best done using your hands. Divide this mixture into 4 and stuff each baby chicken with it. Tie the legs tightly together (truss) with a piece of string.
If you are using bacon to create a lattice top, drape 2 – 3 slices around each bird tucking the ends under or between the wings.
Place the 4 chickens snugly in a high-sided roasting dish. Mix the stock, white wine, Dijon, and mustard together and pour this over the chickens. Add the bay leaves to the dish.
To Roast if you are NOT using the bacon:
Breast side facing up – 20 minutes
Flipped over with underside facing up – 20 minutes
Flipped back upright with breasts facing up – 20 minutes and until golden brown.
Baste the chickens each time you flip them, and if the stock gets very dry, add a splash of hot water to the tray.
To roast if you are using bacon:
Cover the roasting dish with foil and roast for 20 minutes, then remove the foil, baste the birds and for a further 35 – 40 minutes until golden brown
Remove the chickens from the pan and if necessary add a little more hot water to the pan and scrape up any pan juices and heat through. This makes the most delicious gravy to serve with the chicken. Serve with a crusty baguette or country loaf to mop up any excess.
Definitely ensure you have the 2020 La Motte Chardonnay ready to enjoy with the delight of this meal.