---
---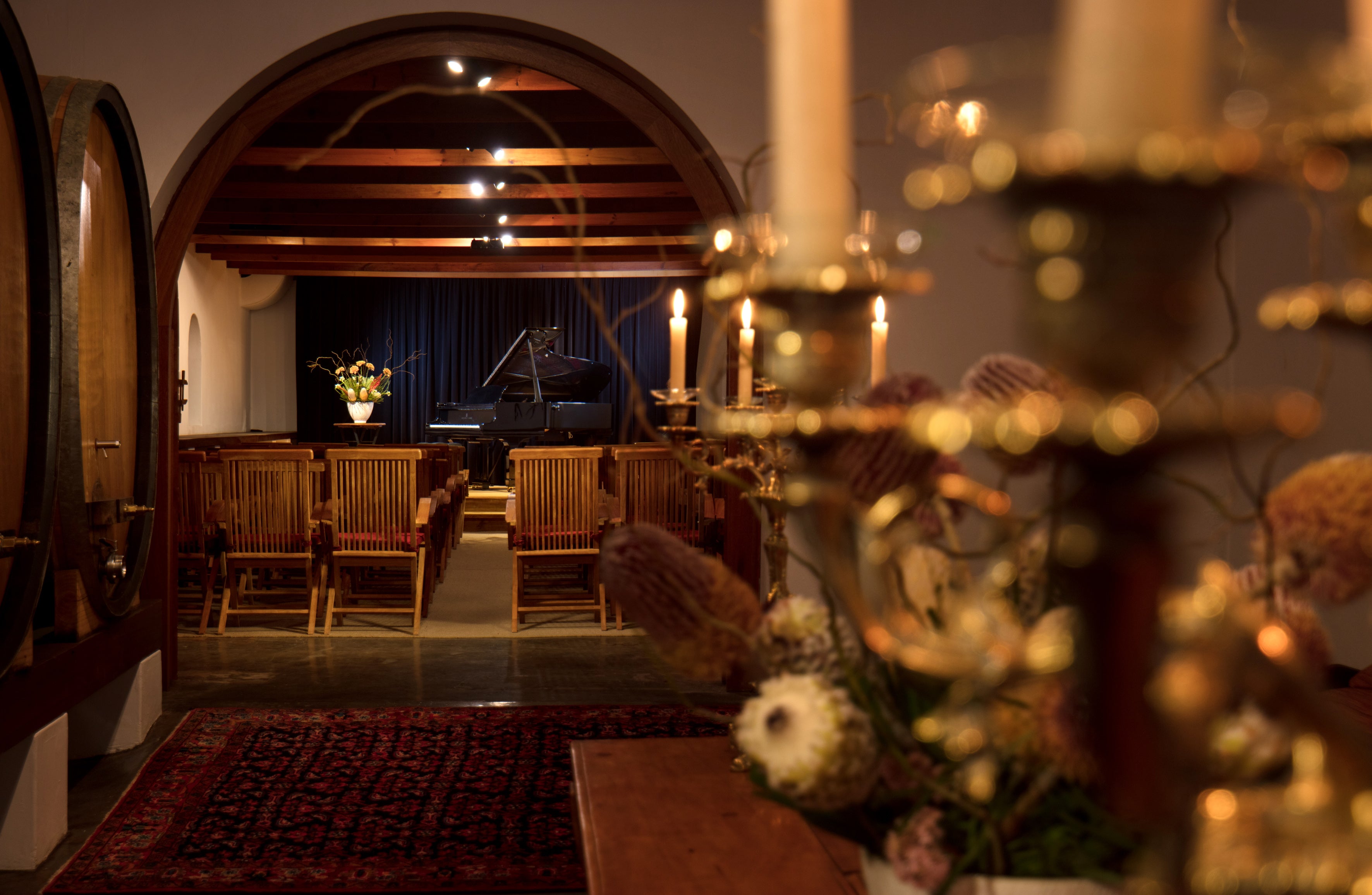 Inspired by La Motte's owner and internationally renowned mezzo-soprano, Hanneli Rupert-Koegelenberg, La Motte's close association with classical music is celebrated by a series of monthly classical music concerts presented in the beautiful Historic Cellar on the estate. An impressive line-up of both local and international artists will perform in the coming months.
15 July – Levy Sekgapane (tenor) & Albie van Schalkwyk (piano)
Award-winning rising star, tenor Levy Sekgapane joins renowned pianist Albie van Schalkwyk in a French inspired recital as part of the annual Franschhoek Bastille Festival, featuring works by Faure, Debussy and Beethoven.
21 October – Christopher Park (piano)
"Christopher Park is a pianist who captivates with his fascinating technical mastery, astounding musical maturity, and a particularly intense performance style" – this was the explanation given by the jury by the Stiftung Schleswig-Holstein Music Festival upon awarding Christopher Park the renowned Leonard Bernstein Award 2014. His programme for La Motte will feature works from his new CD of works by Schumann, Stravinsky and Neuwirth which has been celebrated in European magazines as a "brilliant recording" and "reference version".
18 November – Grobler-Martens Trio (piano, violin, cello)
Respected local musicians and members of staff at Stellenbosch University, pianist Pieter Grobler, violinist Suzanne Martens and cellist Peter Martens, will perform piano trios by Debussy, Schumann and Shostakovich – arguably some of the world's most sublime chamber music.
9 December – Christmas Concert with Minette du Toit-Pearce (mezzo-soprano), George Stevens (baritone) and Johann Nel (narrator)
La Motte welcomes back mezzo-soprano Minette du Toit Pearce and baritone George Stevens for the annual Christmas concert of festive oratoria, songs and Christmas carols. Johann Nel returns to narrate the Christmas story.
Concerts start at 19:00, performances last for one hour and guests are invited to stay for a glass of La Motte wine. Those who would like to enjoy dinner afterwards at award-winning Pierneef à La Motte Restaurant, are urged to make a reservation beforehand.
Concert information & Reservation details:
Admission: R200
Reservations: Online at www.la-motte.com or click on concert name above. Bookings can also be made with Angela at +27(0) 21 876 8000 or concerts@la-motte.co.za
La Motte Estate's gates only open at 18:00.
Concert starts promptly at 19:00.
Concertgoers with dinner reservations at Pierneef à La Motte should please be seated in the restaurant by 20:30. Dinner reservations: pierneef@la-motte.co.za or +27(0)21 876 8800.