---
---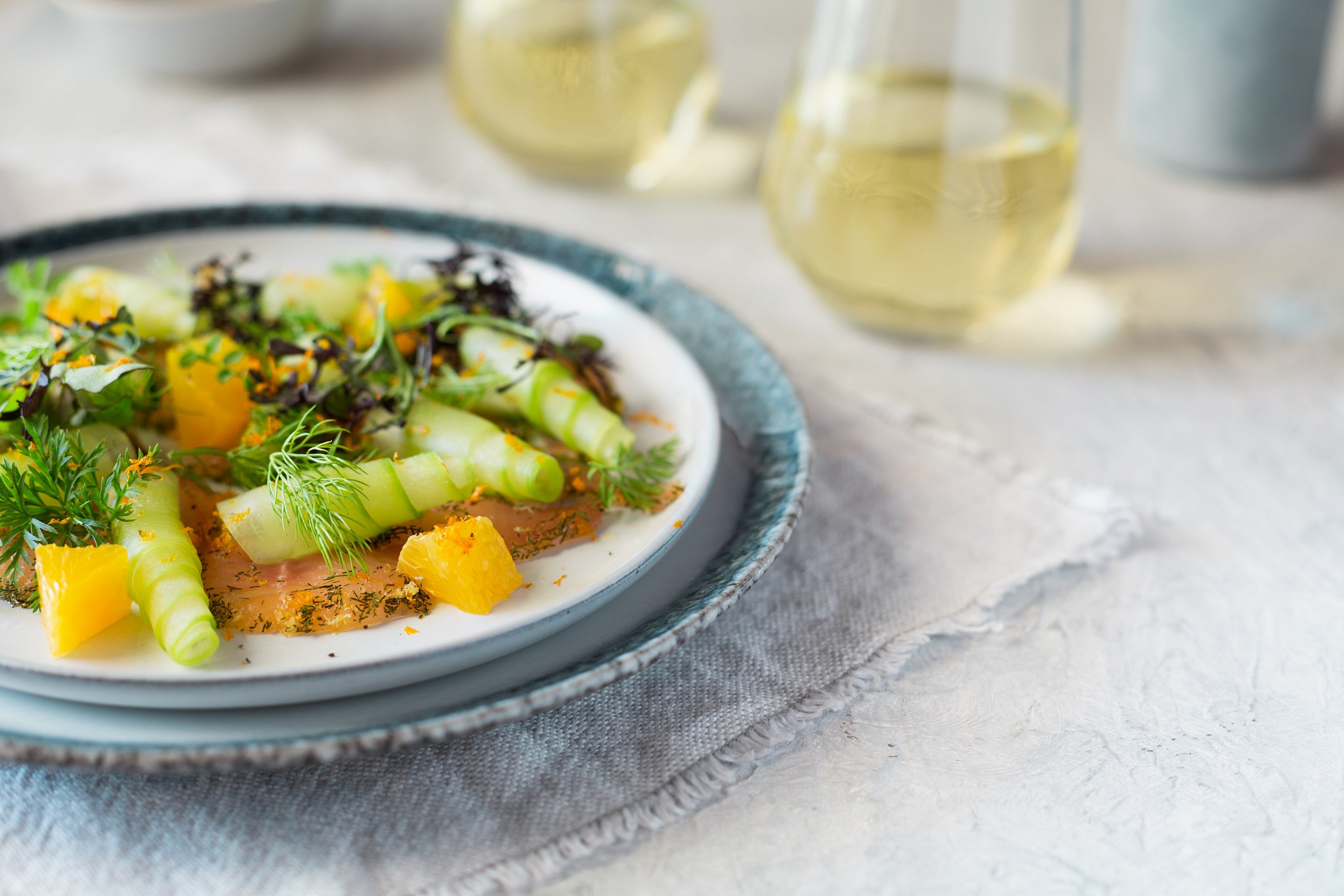 Looking for something that is delicious but light and summery? Try Chef Eric Bulpitt's recipe for Citrus and Fennel Cured Franschhoek trout. At its best, served with the refreshing and moreish 2020 La Motte Sauvignon Blanc or the more complex and mineral 2020 Pierneef Sauvignon Blanc.
Ingredients
Trout
1 side of Franschhoek trout
Cure Mix
500 g coarse salt
300 g sugar
zest of 2 lemons (zested separately)
zest of 2 oranges (zested separately)
30 g dill, finely chopped (use 15 g for the cure and 15 g for garnish)
Cucumber Pickle
1 cucumber
300 ml water
200 ml white wine vinegar
50 g sugar
Dressing
100 ml olive oil
50 ml white wine vinegar
salt and pepper to season
To Serve
handful of micro greens
fresh dill
2 oranges, peeled, pith removed and sliced into 8 segments and then into thirds
Cure Mix
Mix all the cure ingredients together in a bowl. Lightly dust a baking tray with the cure mix and then lay the salmon trout skin side down on the tray. Sprinkle the fish with the remaining cure mix, cover the whole tray with cling film and refrigerate for 2-3 hours.
When ready to serve, gently wash off the cure mix and pat dry.
Sprinkle the flesh side of the fish with the remaining fruit zests and dill.
Cucumber Pickle
Using a vegetable peeler, peel the cucumber lengthwise in ribbons. Stop when you get to the seeds and then turn the cucumber around and peel the other side.
Combine the water, vinegar and sugar in a saucepan and bring to a boil. Once boiled remove from the heat and allow to cool. Once cool to the touch, pour over the cucumber ribbons and leave to pickle until completely cooled. Just before plating, strain off the pickling liquid.
Dressing
Combine all of the ingredients and season to taste.
To Serve
Slice the fish at a slight angle as thinly as possible to get long thin slices.
Lay slices onto serving plates. Creatively plate cucumber ribbons on each dish. Top with small segments of cut orange, some micro greens and dill. Drizzle with dressing and serve with your choice of Sauvignon Blanc.