---
---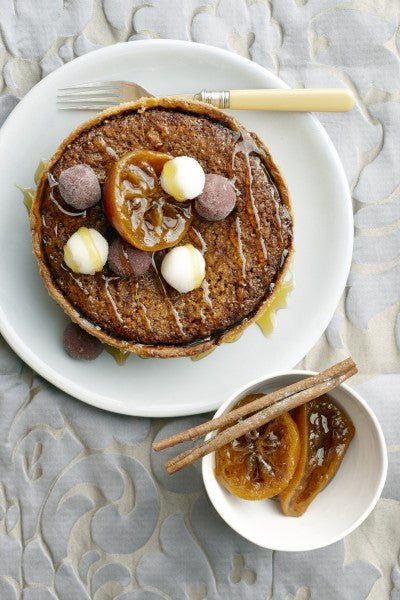 Winter is citrus season in the Western Cape and it is the ideal time to use the lovely sweet and sour flavour combinations in the kitchen. This original recipe for the Citron Tart in our Cape Winelands Cuisine Cookbook used cake flour or eggs as thickening agents, but we have adapted it for today's modern cook by using only egg yolks.
Citron tart recipe
Serves 8
Ingredients
2¼ cups (560 ml) sugar
½ cup (125 ml) water
1 Tbsp (15 ml) butter
½ cup (125 ml) ground almonds
½ cup (125 ml) fine biscuit crumbs
2 eggs plus 2 egg yolks
2 cups (500 ml) citron preserve, chopped
Clementine preserve and pouring cream, for serving
Method
Preheat the oven to 150 °C (300 °F)
Place the sugar and water in a saucepan over medium heat. Keep stirring until the sugar dissolves. Bring to the boil and reduce to a thick syrup.
Add the butter, almonds and biscuits crumbs. Remove from the heat and let it cool slightly.
Stir in the eggs, egg yolks and citron preserve.
Scoop the filling into the pie casing and bake for 45 minutes, or until firm.
Serve at room temperature with clementine preserve and pouring cream.
Sweet Shortcrust
Ingredients
300 g butter
150 g sugar
2 eggs
2 egg yolks
1 small pkt (500 g) cake flour
Pinch of salt
Method
Cream the butter and the sugar until light and fluffy
Add the eggs and yolks one by one until incorporated.
Sift in the flour and salt and mix to form a dough. Form into a ball and wrap in plastic wrap.
Rest for 1 hour in the refrigerator before using.
Line a pie dish with pastry and back blink for 30 minutes at 200 °C (400 °F)