---
---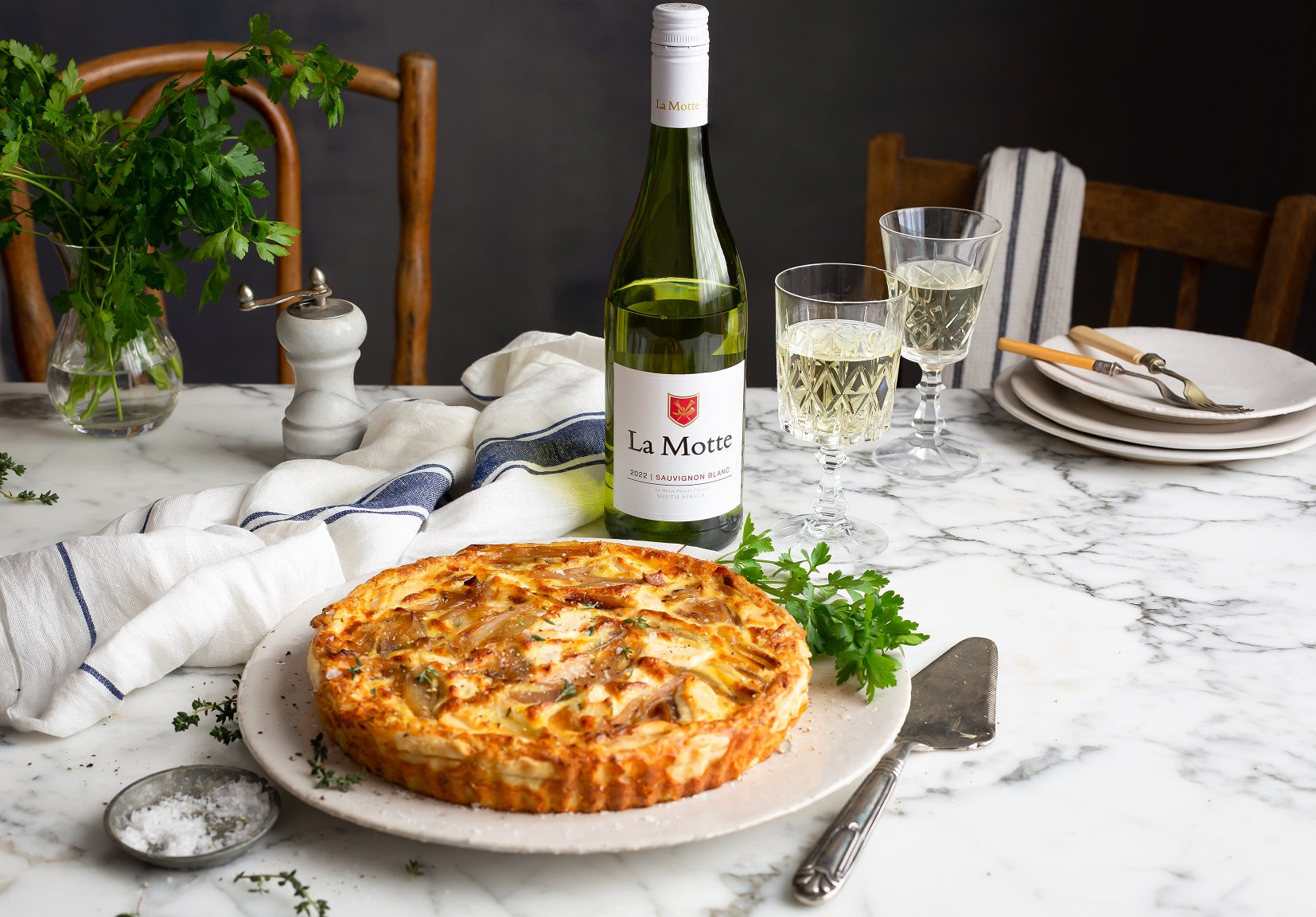 "Quiche can be eaten warm or cold and can be made in advance and reheated. Make the shallot filling in advance as this takes a little longer. When baking the filled quiche, place the tart tin on a baking tray before putting it in the oven. It makes the taking in and out much easier, and catches any spills if some of the filling leaks out." Sam Linsell 
Recipe – make one large 28 – 30cm quiche
Ingredients:
Pastry:
120g butter
200g Cake Flour
2–3T ice cold water
Filling
500g shallots
3 sprigs of fresh thyme leaves
1 star anise pod (optional)
½ cup dry white wine
4 large free-range eggs
1Tbsp Self Raising Flour
250g creme fraiche / sour cream
1 ½ cups very mature Cheddar (or one cup Cheddar and ½ cup Parmesan)
¼ cup milk
2 tsp chopped fresh herbs (thyme & parsley) – or 2 tsp dried mixed herbs such as Herbs de Provence
6 rashers of streaky bacon, chopped
125g log of goat's cheese (chevin)
Instructions
Make the shallots in advance. You can either cook these slowly on the stove top in a heavy based lidded pot or cook in an instant pot.
Peel the shallots and cut both ends off then cut them in half if they are small, or in quarters if they are bigger. Add a splash of olive oil to a pot and sauté them until going brown with the thyme leaves and star anise. Once they have taken on some colour, pour in the wine and season with salt and pepper. Cover and cook for 30 minutes stirring occasionally. Then take the lid off and allow any liquid to cook off. Remove the thyme stalks and star anise.
To cook the shallots in a pressure cooker, sauté as per above then cover with wine and cook for 10 minutes on high and then use a natural release. Set the pressure cooker to sauté to cook off any excess liquid at the end.
To make the pastry base:
Add the flour and butter to a food processor and briefly blitz until it's a fine crumb. Pour the ice water through the spout and briefly mix to form a dough. Tip this onto a floured surface and knead gently. Cover in cling film and refrigerate for 30 mins.
Pre heat the oven to 180C / 350 F
Roll the pastry out to about 4mm thick and a big enough circle to cover a 28cm – 30cm loose bottomed tart tin. Lay this over a loose bottomed tart tin (28cm – 30cm in diameter).
Prick the surface of the pastry with a fork in multiple places, cover with baking paper and fill with baking beans, dried beans, or rice. Bake blind in the pre heated oven for 15 minutes. Remove from the oven, take out the baking paper and beans and put the pastry case back in the oven for a further 12 minutes.
To make the filling:
While the pastry is baking blind, make the filling.
Fry the bacon in a non-stick frying pan until crispy. Drain on paper and set aside.
Beat the eggs and flour together until well combined. Add all the crème fraiche and milk and mix. Add the grated cheddar and fold in.
Place the hot pastry tart in the case on a rimmed baking tray and sprinkle over half the bacon and shallots pour. Pour over the filling mixture. Top with the remaining bacon and shallots. Slice the goat's cheese into rounds and break these up dotting them over the mixture evenly. Press in slightly to submerge into the filling.
Return the quiche to the oven and bake for 30 – 35 minutes until it has set and browned around the edges.
Serve with generous glasses of 2022 La Motte Sauvignon Blanc.