---
---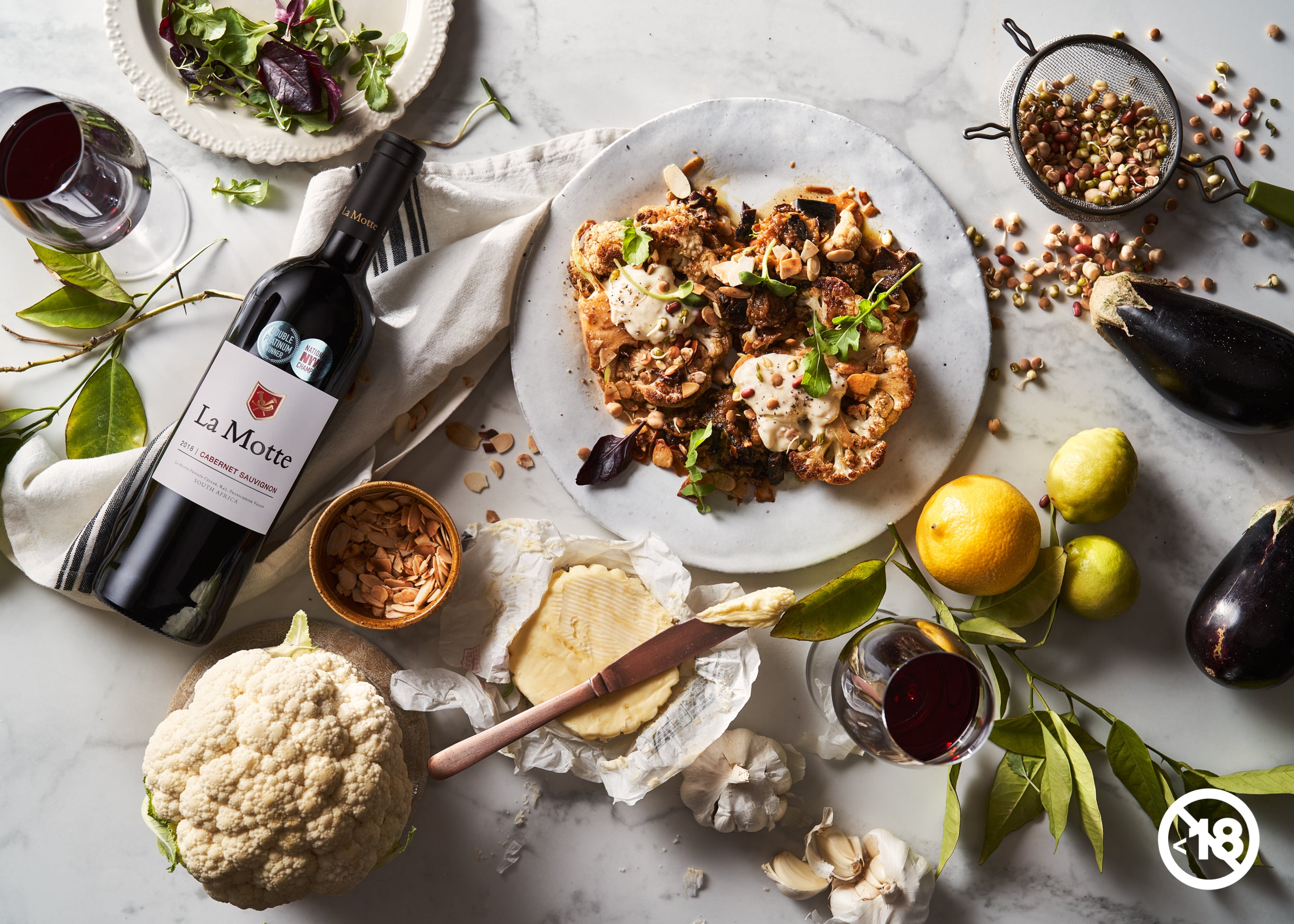 Butter and Almond Roasted Cauliflower Steak, Babaganoush Puree, Horseradish Yoghurt, Home-made Sprouts
Recipe: Chris Erasmus
A vegetarian dish with so much complexity, texture and flavour, it needs a wine that matches its intricacy! Enjoy with a delicious glass of 2019 La Motte Cabernet Sauvignon. 
Cauliflower
Serves 2
1 whole cauliflower
3T butter
Salt and pepper to taste
½ cup flaked almonds
Slice the cauliflower in half from top to bottom and trim off the edges to form 2 steaks.
Heat a non-stick pan and add the butter, wait for the butter to brown.
Season the cauliflower and roast in the brown butter, over medium heat for 3 - 4 minutes, don't turn before it has caramelised.
Add the almonds and turn the cauliflower over, cook over low heat until cooked to desired softness, careful not to burn the almonds.
Drain on paper towel and keep warm, spoon the almonds over the cauliflower.
Babaganoush
Serves 6 - 8
1/2 cups vegetable oil
3 cups diced aubergine
1T chopped garlic
1T chopped ginger
1/2 red chilli, chopped
1tsp curry powder
½ tsp turmeric
½ tsp salt
1tsp yellow mustard seeds
1/4 cups brown sugar
½ cup white wine vinegar
1T preserved lemon or tamarind paste
Heat the oil in a large pot, very hot, and fry the aubergine for 5 minutes.
Add the garlic, ginger and chili and cook for 5 more minutes.
Add the spices and cook for 2 minutes.
Add the remaining ingredients and cook until thick and fragrant.
Either keep chunky or blend smooth for puree.
Horseradish yoghurt
Serves 2 - 4
¼ cup freshly grated horseradish (microplane)
½ cup double thick organic yoghurt
1tsp lime zest
1tsp lime juice
Salt to taste
Mix all the ingredients gently, do not overwork the yoghurt it will become runny and refrigerate until needed.
Spoon over the warm cauliflower just before serving.
Sprouts
Serves 4 - 6
½ cup lentils, dried
½ cup mung beans, dried
2 sterilised 1-litre glass jars
2 pieces of muslin cloth (or any clean cloth)
Butchers string or elastic bands
water
Place the lentils and beans in separate jars and fill to the top with clean, filtered water.
Leave to soak overnight, rinse well the next day and strain off the water, do not dry them keep moist.
Tie the cloth over the mouths of the jars and turn upside down at 45°
Rinse the sprouts every 4 hours and repeat the process for 12 hours.
Leave to drain and sprout, this should take 2 days at room temperature.
Keep in an airtight container and refrigerate.