---
---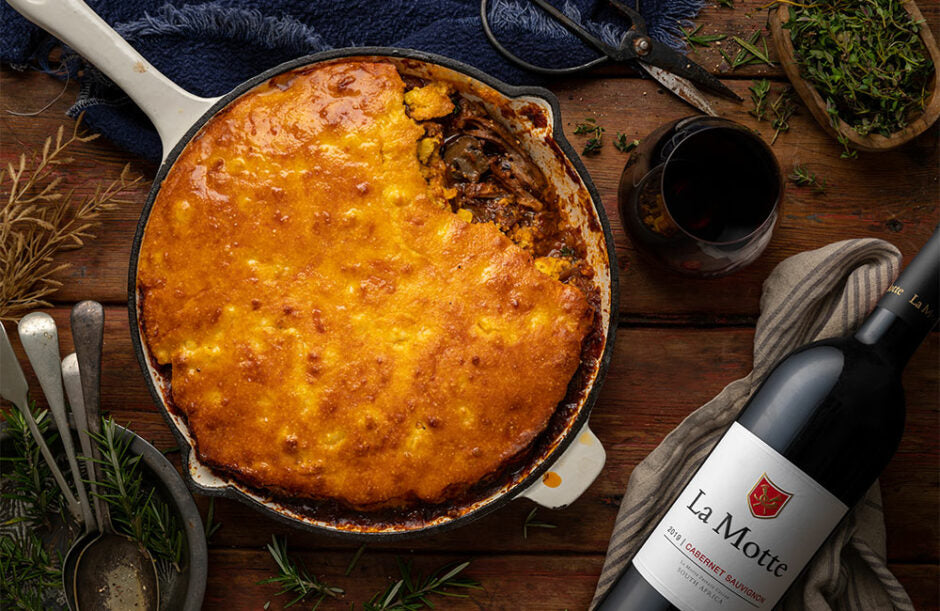 A pull-apart tender beef filling topped with a delicious mielie bread, perfect for mopping up that delicious sauce. 
Recipe by Crush Magazine
Serves 6
Stew
oil
1.5 kg beef short rib
salt and pepper
200 g bacon bits
1 large onion, chopped
2 large carrots, chopped
2 stalks celery, chopped
2 leeks, chopped
3 garlic cloves, chopped
50 g tomato paste
4 sprigs of rosemary, chopped
1 Tbsp (15 ml) dried thyme
1 C (250 ml) red wine
2 x 400 g tins of chopped & peeled tomatoes
200 g Portabellini mushrooms, halved
3 C (750 ml) beef stock
Mielie Bread
1 C (250 ml) cake flour
½ C (125 ml) fine polenta
½ C (125 ml) tinned whole kernel sweet corn
100 g grated cheddar cheese
1 Tbsp (15 ml) sugar
2 tsp (10 ml) baking powder
1 tsp (5 ml) salt
1 C (250 ml) buttermilk
2 eggs, whisked
30 g butter melted
Stew
Preheat the oven to 170 °C.
Drizzle the short ribs with oil and season with salt and pepper. Place a large Dutch oven over high heat. In batches, brown the short ribs well on all sides, then remove from the pot and set aside.
Turn the heat down to medium and add the bacon, onion, carrots, celery and leeks. Stir fry until the liquid is cooked out of the bacon and the veggies begin to fry. Continue cooking until the veggies are soft and starting to colour. Add the garlic and tomato paste, rosemary and thyme and stir fry for another 2 minutes until fragrant. Deglaze with the red wine, then bring to a boil and reduce the mixture by half.
Add the tinned tomatoes, mushrooms and stock and mix well to combine. Add the ribs back to the pot. Bring to a boil, then transfer the Dutch oven to the preheated oven to braise slowly. After 2 ½ hours, check the ribs for tenderness. If they are still a little tough, give them another 30 minutes and check again. When the ribs are fork tender, remove the bones from the pot and discard. Remove the pot from the heat and let it rest for at least 30 minutes. You can shred the meat into smaller bite-size chunks at this stage.
Mielie Bread
To create the final dish, you can either make it in the same Dutch oven or transfer the short rib filling to a cast iron pan or oven safe dish. Just make sure that you don't overfill the dish, as some liquid will displace when you spoon on the topping.
Increase the oven temperature to 200 °C.
In a large bowl, whisk together the flour, polenta, corn, cheese, sugar, baking powder and salt. In another bowl, whisk the buttermilk, eggs and melted butter together. Mix the wet ingredients into the dry ingredients and whisk to combine. Spoon dollops of the topping mixture onto the beef filling and work it to the edges neatly, closing gaps in-between.
Place into the oven and bake for 25-30 minutes or until golden. Remove from the oven and allow to rest for at least 5 minutes before serving.
Tip: you can brush the top with a little melted butter for shine and extra moreishness and serve with 2020 La Motte Cabernet Sauvignon.