---
---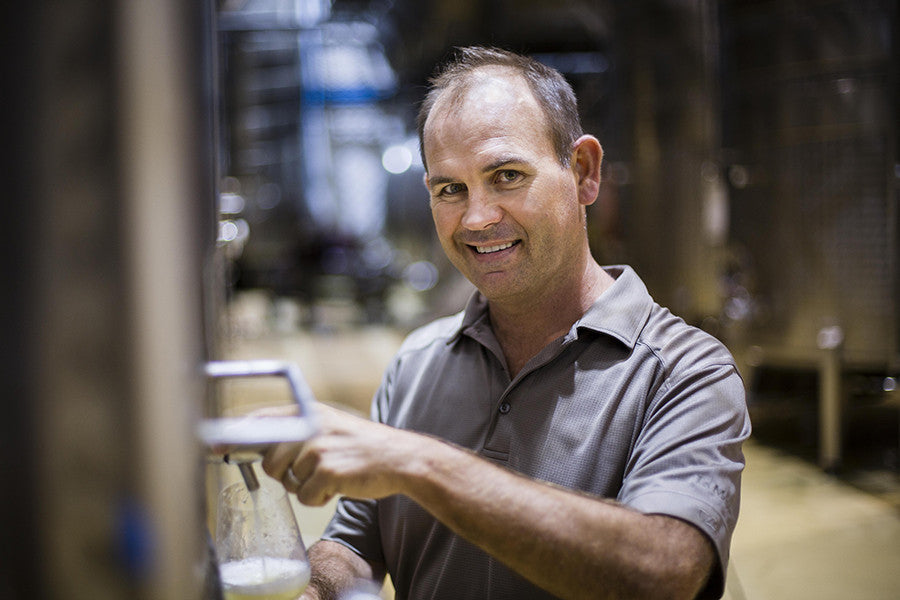 Sauvignon Blanc, whether it is known for its pronounced New Zealand style, as a classic Sancerre or a more tropical South African version ideal for our warm climate, is a wine that, better than most other varieties, translates its terroir.
With the popular La Motte Sauvignon Blanc a blend of Sauvignon Blancs from up to six of South Africa's prime Sauvignon Blanc growing areas, each year, Cellarmaster Edmund Terblanche invites Sauvignon Blanc aficionados into the La Motte Cellar to taste the terroir-specific wines with him – fresh from the tanks, before they are blended.
The tasting serves as an excellent example of how extreme the differences can be between the same variety from the same vintage, but from diverse terroir. Much of the success of La Motte Sauvignon Blanc is in the consistent style and each year, the winemaking team is challenged to use the components from various areas to offers the best quality Sauvignon Blanc in the recognisable La Motte style.
But with Sauvignon Blanc being such a beautiful expression of where it grows, Edmund took the tasting further with a selection of 2014 Sauvignon Blancs: Spier 21 Gables Sauvignon Blanc from South Africa, Compagne Vinicole Baron Edmond De Rothschild Rimapere from Marlborough in New Zealand, Longavi Sauvignon Blanc from Chile, Ladoucette Comte la Fond from Sancerre (France) and La Motte's Pierneef Sauvignon Blanc.
Rather than comparing the wines with regard to quality, his focus was on the stylistic differences. The New Zealand wine offered the typical popular New Zealand flavour profile and the Chilean Sauvignon Blanc was crisp with pronounced white asparagus flavours, but it was interesting to note the difference between the two South African Sauvignon Blancs. Die 21 Gables (origin Tygerberg and a North West Coastal influence) – a beautiful expression of a riper style while the Pierneef (South Coast influence) is more mineral and almost similar in style to the Sancerre. Again it shows South Africa's positioning between what is referred to as the Old World (traditional European wine countries) and New World (New Zealand, Australia, Argentina, California). While South Africa is classified under New World, its wines often combine the fruit of a sunny climate with the elegant, slightly more reserved style of the Old World.
While there was no denying the diversity of the Sauvignon Blancs, its food-pairing properties were the next subject up for discussion. Often used as an aperitif, Sauvignon Blanc frequently has to play second fiddle to Chardonnay when it comes to the dinner table. Chef Michelle Theron and Pastry Chef Vicky Gurovich of the Pierneef à La Motte Restaurant prepared a menu that showcased the best of Sauvignon Blanc's abilities on the table. From a Chilled nectarine and peach soup with fermented fynbos honey, raw fennel and hay-smoked almonds to Pan-fried Franschhoek Salmon Trout with preserved lemon and dill gnocchi (see recipe below), green olive, spinach and broccoli ragout with a ginger and lemongrass velouté. And Sauvignon Blanc with dessert? Indeed. The last pairing of the day beautifully combined the 2015 La Motte Pierneef Sauvignon Blanc with the unique savoury, tart and sweet notes of the dessert called Pepe Charlotte "Bouchon" delice cucumber with black fig compot and honey roast beetroot sorbet!
Chef Michelle's Preserved Lemon and Dill Gnocchi
Ingredients
600g Baked potato, scooped out of skin
200g 00 flour
1 egg
1 egg yolk
140 g grated Pecorino cheese
30 ml finely chopped dill
30 ml finely chopped rind of preserved lemon
5 ml salt
Method
Bring a large pot of water to the boil and add salt.
Fill a large bowl with ice and water.
Combine flour, salt, dill and preserved lemon rind and add to potato.
Add eggs to the potato mix to form a firm dough.
Roll out the dough into 3 equal sized strips, cut in small pieces and roll.
Press down slightly with a fork.
Add to the pot of boiling water and cook until they rise to the surface (About 2-3 minutes)
Transfer to ice water to cool down.
Then strain from water and toss with olive oil to prevent from sticking together.
Dust with flour and shallow fry in good quality olive oil and serve immediately as a side to fish and a green salad.