---
---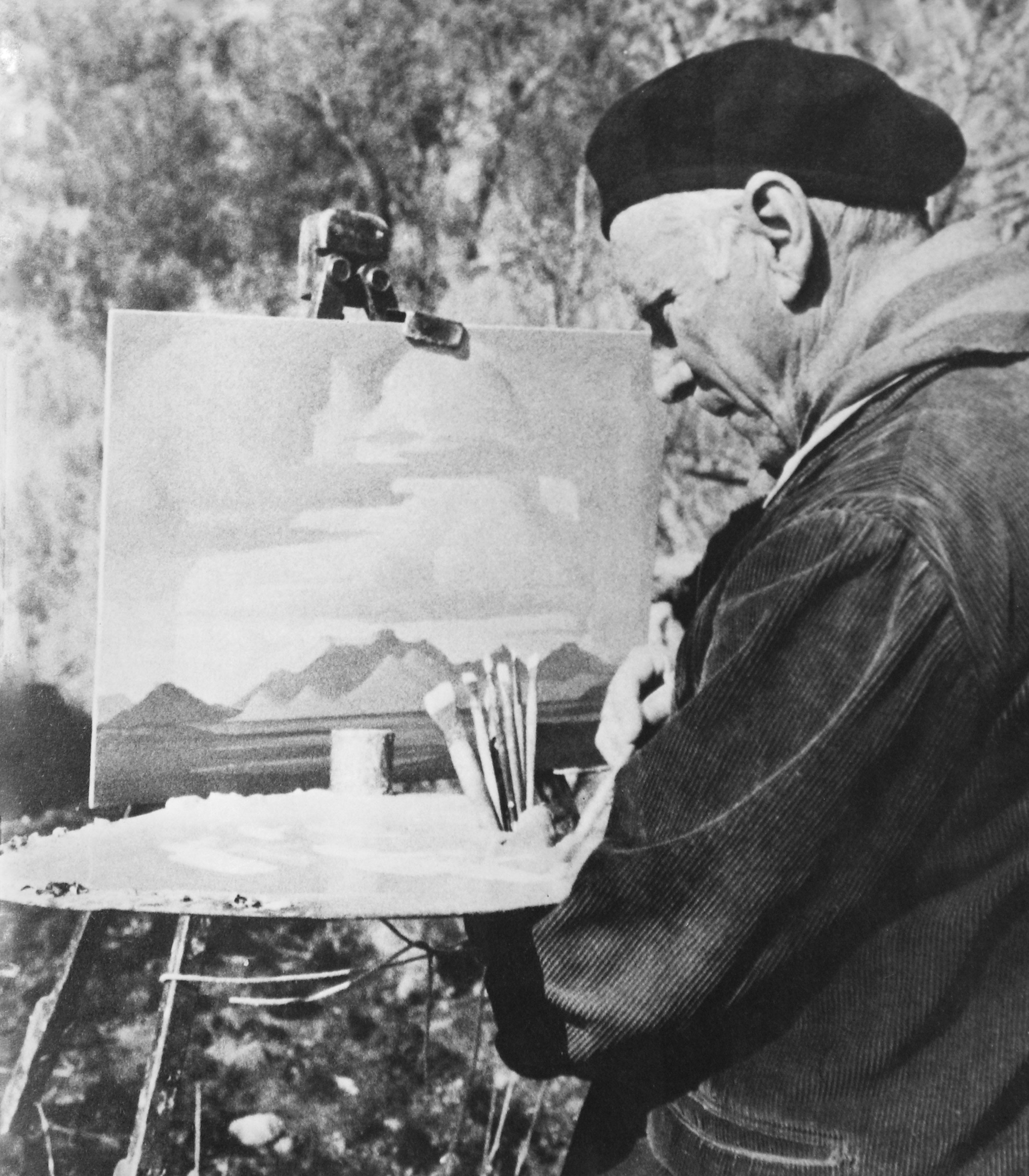 Today, 4 October 2017, is of special  significance to La Motte as it marks 60 years since the death of Pierneef on 4 October 1957.
Other than La Motte's tribute exhibition, A Tribute to the Life and Work of JH Pierneef (1886 - 1957), after Pierneef's passing,  contemporaries and friends also paid tribute to his exceptional contribution to and pioneering efforts with art in South Africa over his 50-year career.
In two public tributes by friends Prof EG Malherbe and Anton Hendricks, Pierneef was acknowledged for his art accomplishments, but also for his  relationships with friends, colleagues and contemporaries. His exceptional sense of humour and ability to tell stories made him a beloved character - as did his anecdotes around the camp fire, pranks and shenanigans with friends, family and even strangers.
His acclaim under fellow artists is clear from the personal documents hosted in the national archive in Pretoria - folders upon folders of tributes from poets, sculptors, art connoisseurs, literary figures, cultural leaders and friends.
Two Afrikaans poems addressed to him where also published - one by EJ Mocke and another by AG Visser. 
Aan JH Pierneef
An undated poem by EJ Mocke (PG Nel 1990:189)
Die hand wat met die verfkwas die panele
kon stryk met vaardigheid, en kuns uitbou
van landskap met verruklikste tonele,
rus nou vir ewig – en 'n nasie rou,
want tussen meesters met groot onderskeiding,
het hy 'n rang verwerf; sy skildergees
het bokant die gewone uitgekring.
'n Groot ambassadeur is hy gewees,
want in kunsgallerye pryk die beelde
wat hy geskep het; en wie dit ook al sien,
herken die oorsprong van die prag en weelde,
erken dat hy as skepper eer verdien.
Die boom geëts teen die aandrooi op die land –
die wind, die wolke swart en donkerblou –
die indrukke het hy vir goed geplant,
en nageslagte sal dit lank onthou.
Vaar uit o gees, na daardie ver valleie,
deur die donker stroom en skadu-dal omlyn:
die invloed bly wat jy gelaat het en die blye
vertroosting dat jou kuns nooit sal verdwyn.
Die lokstem van die Bosveld 
AG Visser, published in 1927 (PG Nel, 1990:179)
Aan my vriend Pierneef
Langer kan ek hier nie rus –
Rus van duurte kry nie:
Nag, wat alles wieg en sus,
Sus nie meer vir my nie.
Drome wenk my in die nag,
Stemme fluister deur die dag:
'Hier is nie te bly nie.'
Na die Bosveld lok my droom –
Droombeeld nooit verlore –
Waar Magalakween nog stroom –
Stroom soos vantevore.
'k Hoor die môrewind se lied
En die rietbok in die riet
Aldeur in my ore:
Daar's ' wêreld wyd en vry
Anderkant Tatsjanie,
Waar die grootwildtroppe wei
Tussen die mapanie;
Waar die groen maroelas gaan
Geen gemaakte baan nie.
'k Sien die berge diensig blou –
Blou-pers rotsewande;
'k Sien die kremetartboom hou –
Hou nog steeds die hande
Seën-uitsprekend oor die woud
As die dag in louter goud
Breek oor bosse en rande.
'k Groet u glorie, Grote Son –
Songoud uit u woning -;
Ligtelaaie lewensbron –
Bron en glans-bekroning -,
Heil u strale mild en bly!
Vlaktekinders wild en vry
Ken geen ander koning.
By die kampvuur met my roer,
Roerloos deur die duister,
Sien ek wilde oë loer –
Loer met wilde luister;
Maar ek staar die sterre aan
Tot ek die geheim verstaan
Wat die nagwind fluister.
Na die Bosveld moet ek weer –
Weer my siel tot lawing;
Want ek walg en wil nie meer –
Meer genotsverslawing,
Weg voor! Hier begin die tog,
Weg van blinkerige bog . . .
Noem dit dan . . . beskawing!